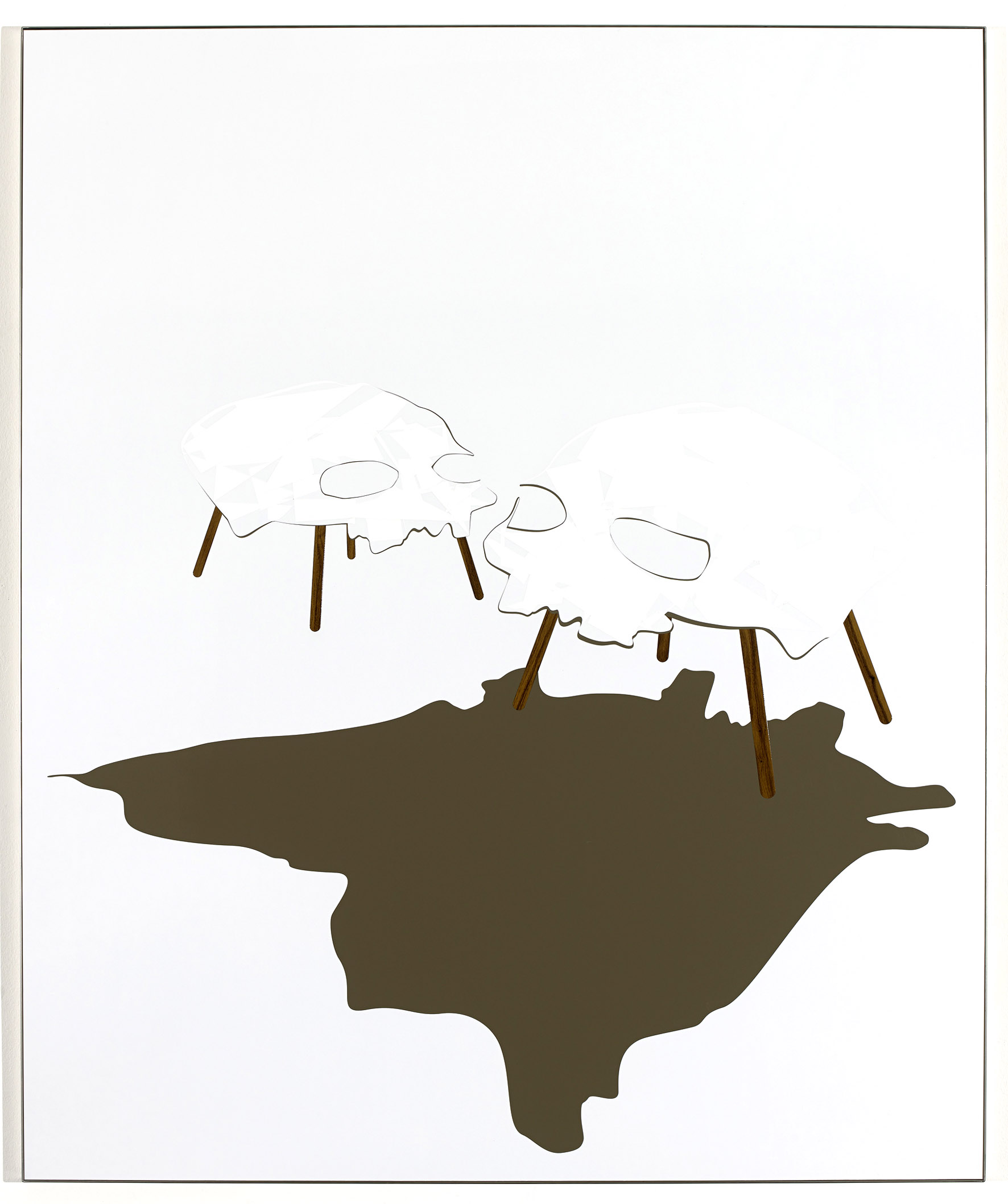 Backslash Gallery is delighted to present a booth where an intimate atmosphere conducted the choice of the works, in the meanings of these as much as in the scenography of the booth.
The visitor first sees large scale works including a photograph by Sergen Sehitoglu revealing the privacy of a lady who sells hers charms on Internet. A large scale work by Xavier Theunis invites the visitor to enter a room, designed to represent a small interior, and reveals an atmosphere of a house comfort while paying tribute to the famous Brazilian designers Humberto and Fernando Campana. Then two works by Michael Zelehoski suggest the connection between this first space, which could be seen as the hall of a house, and a smaller room that is filled with intimate artworks.
The design of the booth then lets appear a space organized like a curiosity cabinet with a table and chairs' set of young designers the gallery has chosen to invite, Jules & Pierre. It reconstructs the idea of privacy, secret room, as well as the notion of global fine arts including architecture and design. Small artworks by Charlotte Charbonnel, Rero and Boris Tellegen, are displayed on a shelf and underneath it, giving to the visitor the impression that he enters a real private room in a house, the hiding place of a collector where he gathers all his treasures. Books on contemporary art market dropped off on the shelf contributes to create the idea of a connoisseur's home.
\
 
VOLTA 11
Markthalle
Viaduktstrasse 10
4051 Basel
Switzerland

Press Preview : Monday, June 15, 12 - 2pm
Vernissage : Monday, June 15, 2 - 5 pm
Open to the Public : Monday, June 15 from 2pm
Public hours : Tuesday, June 16 - Saturday, June 20, 10 am - 7 pm

Shuttle service to and from Art Basel
Tuesday – Saturday, 12 – 6 pm

Public transport
From SBB:
Tram Line 1, 2, 8: one stop, 300 m
From ART Basel and LISTE:
Tram Line 2 (direction Binningen):
exit at Markthalle
http://voltashow.com/VOLTA11.menu.0.html
PRESSE / PRESS
"Basel's Renowned Art Fair For New And Emerging art", VOLTA 11, 2015
Lorenzo Pereira, "Volta 11 in Basel", Widewalls, 2015