RERO

EIDOLON
du 12 mai au 23 juin 2012

\

May 12 - June 23, 2012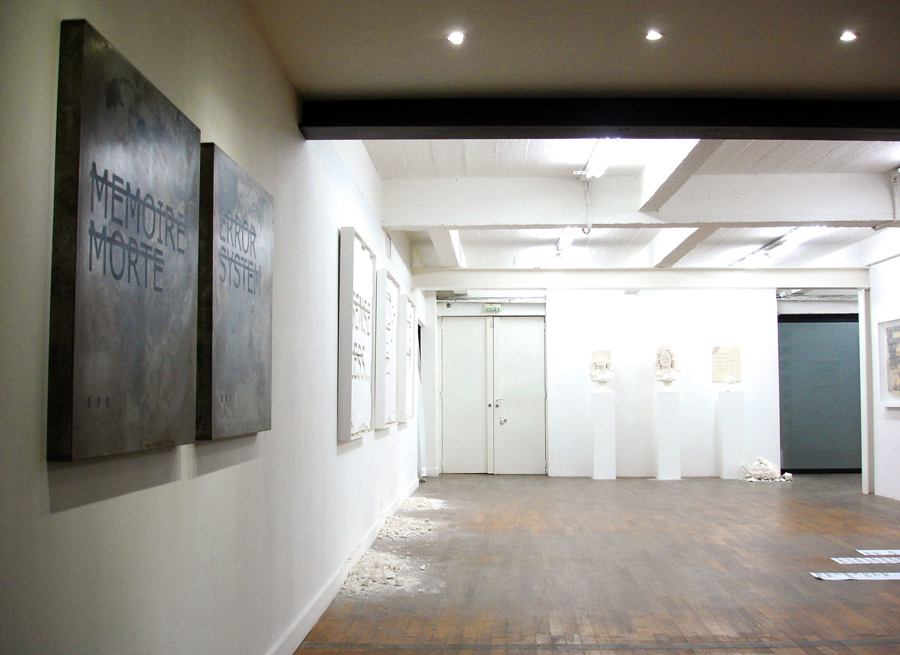 Un catalogue a été publié à l'occasion de l'exposition par les Éditions Critères dans la collection OPUS DELITS
\ A catalogue has been published by Editions Critères in the OPUS DELITS collection
Il sera disponible en librairie à partir de septembre 2012
\ It will be available in bookstores from September 2012
La galerie Backslash est fière d'annoncer la seconde exposition personnelle de l'artiste français Rero dont le travail en extérieur prend à nouveau forme dans un espace clos. Fort de ses dernières interventions urbaines, notamment dans l'ancienne RDA, le plasticien disperse au sein de la galerie plusieurs installations spectaculaires que viennent jalonner ses désormais fameuses œuvres aux expressions et mots barrés d'un trait noir.
Eidolon signifie image en grec ancien, terme autour duquel l'artiste développe son propre concept de négation, alimenté par l'overdose d'images des milieux urbains. L'Eidolon, c'est ce que notre sens visuel nous donne à voir, une représentation de l'image qui n'est en réalité que le double mental de cette dernière, à l'identique du double reflété dans le miroir alors que ce n'est qu'une illusion. L'essence même du travail de Rero pose ce problème de représentation à travers l'acronyme « what you see is what you get » (WYSIWYG), interface intuitive qui propose de montrer sur écran le résultat final à l'impression. On retrouve ici la notion d'Eidolon puisqu'il est impossible de retranscrire parfaitement de façon virtuelle le résultat imprimé. En fin de compte, What You See Is Never What You Get, revendique Rero.
Les recherches de Rero s'inscrivent dans une continuité résolument fidèle à ses pratiques en extérieur. L'espace clos de la galerie devient un terrain de jeu où l'artiste s'exprime dans les mêmes démarches que sur un lieu abandonné. Backslash devient par conséquent une aire d'expression à travers laquelle Rero construit des installations de destruction. Le lieu abandonné sert de fil rouge au parcours qu'il propose au visiteur.
Rero réinvente constamment son travail et lui donne un mouvement perpétuel de recherches plastiques. Les nouvelles séries présentées à la galerie se veulent un héritage et une suite logique aux premiers ensembles exposés. Le livre tient toujours une place importante et les murs se meuvent dans une raison plus antique liée à la tradition des tablettes. Mais les expressions restent synthétiquement liées à l'ère numérique. Le travail de Rero fait ainsi le lien entre classicisme et contemporanéité.
\
The Backslash gallery is delighted to announce a second one-man show by French artist Rero, as he again brings his outside-focused work indoors into a restricted space. Fresh from a new round of city-based actions, including in the former East Germany, Rero will be showing a number of spectacular installations alongside his now famous works depicting words and phrases with stark black lines crossing them out.

Eidolon, which means image in ancient Greek, is one of the terms the artist uses to define his own concept of negation, a concept that feeds off the image overdose common to our urban environments. Eidolon describes that which our visual sense provides for us to see, a representation of the image which is in fact no more than the mental copy of that image, just like the reflection in the mirror that is no more than illusion. The Rero's work essentially approaches this problem of representation via the acronym WYSIWYG (What You See Is What You Get), the intuitive interface that shows on the screen what the printed result will be. The concept of Eidolon is again present here, as it is impossible to perfectly reproduce the printed result in virtual form. Rero claims that "What You See Is Never What You Get".

Rero remains faithful to the same working techniques as he practices outdoors. The confines of the gallery become a playground within which the artist expresses himself in exactly the same way as he does in other disused spaces. Backslash thus becomes the outlet for Rero's self-expression, used to build installations of destruction. The idea of disused space is a constant throughout the experience Rero offers visitors.

Rero is forever reinventing his work, ceaselessly exploring the possibilities of working in other media. The new series presented at the Backslash gallery represents both a legacy and the logical sequel to the first series shown previously. The book remains a key component and the walls find themselves recast in a more ancient style, derived from tablets. His works do, however, remain rooted in the digital era. Rero thus creates links between the classical and the contemporary.
PRESSE \ PRESS
Jonathan Roze, "Rero Eidolon", Graffitiart Magazine, 2012
Dominique Poiret, "Le monde de Rero", Next Libération, 2012
Bénédicte Philippe, "Rero-Eidolon", Résidences Décoration, 2012
Sophie Pujas, "Rero-Eidolon", ww.artistikrezo.com, 2012
Thibault Jardin, "Rero-Eidolon", Graffitiart Magazine, 2012
Laurent Boudier, "Rero-Eidolon", Télérama sortir, 2012