FAMILY & FRIENDS
du 10 novembre au 22 décembre 2012

\
From November 10 to December 22, 2012



avec
\ with
Henni ALFTAN \ France BIZOT \ Jenny BOURASSIN \ Charlotte CHARBONNEL \ Céline CLERON \ Nicolas DELPRAT \ Raphaël DENIS \ Cyril HATT \ Astrid KRUSE JENSEN \ Mathilde LAVENNE \ Frédéric LEGLISE \ Thomas LEVY-LASNE \ Yves MARCHAND & Romain MEFFRE \ Tania MOURAUD \ Aurore PALLET \ Fahamu PECOU \ RERO \ Lionel SABATTE \ Luc SCHUHMACHER \ Boris TELLEGEN \ Xavier THEUNIS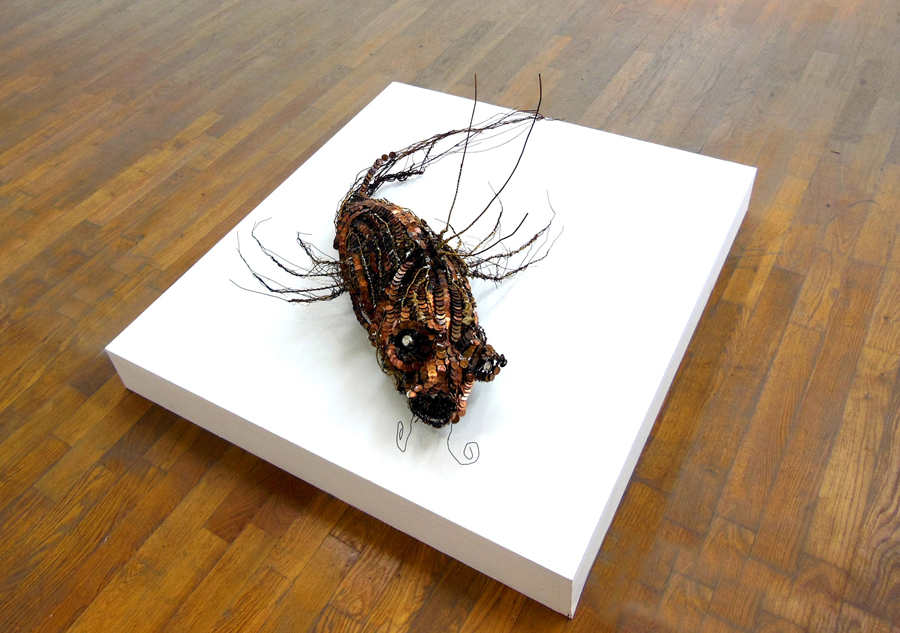 A l'occasion des deux ans de la galerie Backslash, nous sommes heureuses d'annoncer l'exposition Family & Friends. Les œuvres des artistes de la galerie et celles de plasticiens invités proposeront un parcours formel et affectif à travers les rencontres de ces dernières années et les affinités d'une génération.

La galerie s'est construite à partir de rencontres. Ce sont aujourd'hui des histoires d'amitié et de confiance à travers les œuvres des dix artistes que Backslash représente et dont les univers très différents reflètent l'éclectisme de la programmation et la volonté d'ouverture de la galerie.
L'histoire de Backslash s'inscrit depuis sa création dans cette ouverture aux autres, notamment à travers son blog. Nous y parlons des expositions des artistes dont nous aimons le travail et que nous soutenons. C'est cet esprit que nous souhaitons mettre aujourd'hui en avant pour l'anniversaire de Backslash. Autant d'artistes représentés par la galerie que d'artistes invités proposent une exposition généreuse à travers un parcours subjectif de la création actuelle.
\
Backslash is proud to announce Family & Friends, a new exhibition to celebrate the gallery's two-year anniversary. Works by the gallery's artists and guest artists invite viewers on a formal and emotional journey based on the encounters of the last few years and the affinities woven by this generation.

The gallery's history has been built on these encounters. Works from the ten artists Backslash represents have created an environment of friendship and trust. The fact that these artists hail from such different universes reflects the gallery's eclectic approach to programming and desire for openness.
Ever since Backslash first opened its doors, it has stayed true to an approach based on openness to others, particularly via its blog. The blog is where we talk about exhibitions by artists whose work we like and whom we support. We would like the Backslash anniversary to mirror this approach.
Between them, the artists represented by the gallery and the guest artists have created a true reflection of the gallery with a generous exhibition rooted in the subjective exploration of contemporary artistic production.
TÉLÉCHARGER LE PARCOURS DE L'EXPOSITION
Nicolas DELPRAT est représenté par \ Is represented by Galerie Odile Ouizeman, Paris.
Il y bénéficie d'une exposition personnelle du 8 nov. au 13 janvier. Vernissage le jeudi 8 novembre.
\ He will have a personnal exhibition at Ouizeman Gallery starting from Nov. 8 to Jan. 13. Opening on Thursday Nov. 8.

Raphaël DENIS est représenté par \ Is represented by Galerie Sator, Paris.

Cyril HATT est représenté par \ Is represented by Galerie Bertrand Grimont, Paris.

Thomas LEVY-LASNE & Aurore PALLET sont représentés par \ Are represented by Galerie Isabelle Gounod, Paris.
Ils y bénéficieront chacun d'une exposition personnelle début 2013.
\ Both will have a personnal exhibition at Gounod Gallery beginning of 2013.

Yves MARCHAND & Romain MEFFRE sont représentés par \ Are represented by Polka Galerie, Paris

Lionel SABATTE est représenté par \ Is represented by Galerie Patricia Dorfmann, Paris.

Xavier THEUNIS est également représenté par \ Is also represented by Galerie Catherine Issert, Saint-Paul de Vence.
Il bénéficiera d'une exposition personnelle à la galerie Backslash, Paris en mars 2013.
\ He will have a personal exhibition at Backslash Gallery on March 2013
PRESSE \ PRESS
"Family and Friends", val-dan, Nov. 2012
Laurent Boudier, "Family & Friends", Télérama Sortir, 12 dec. 2012
Henri-François Debailleux, "Flashback sur les deux ans de Backslash", Le Journal des Arts, Dec. 2012
Dominique Poiret, "Backslash, réunion de famille", Next Libération, Dec. 2012