BLACK MAGIC



du 9 novembre au 22 décembre 2017
\

from November 9 to December 22, 2017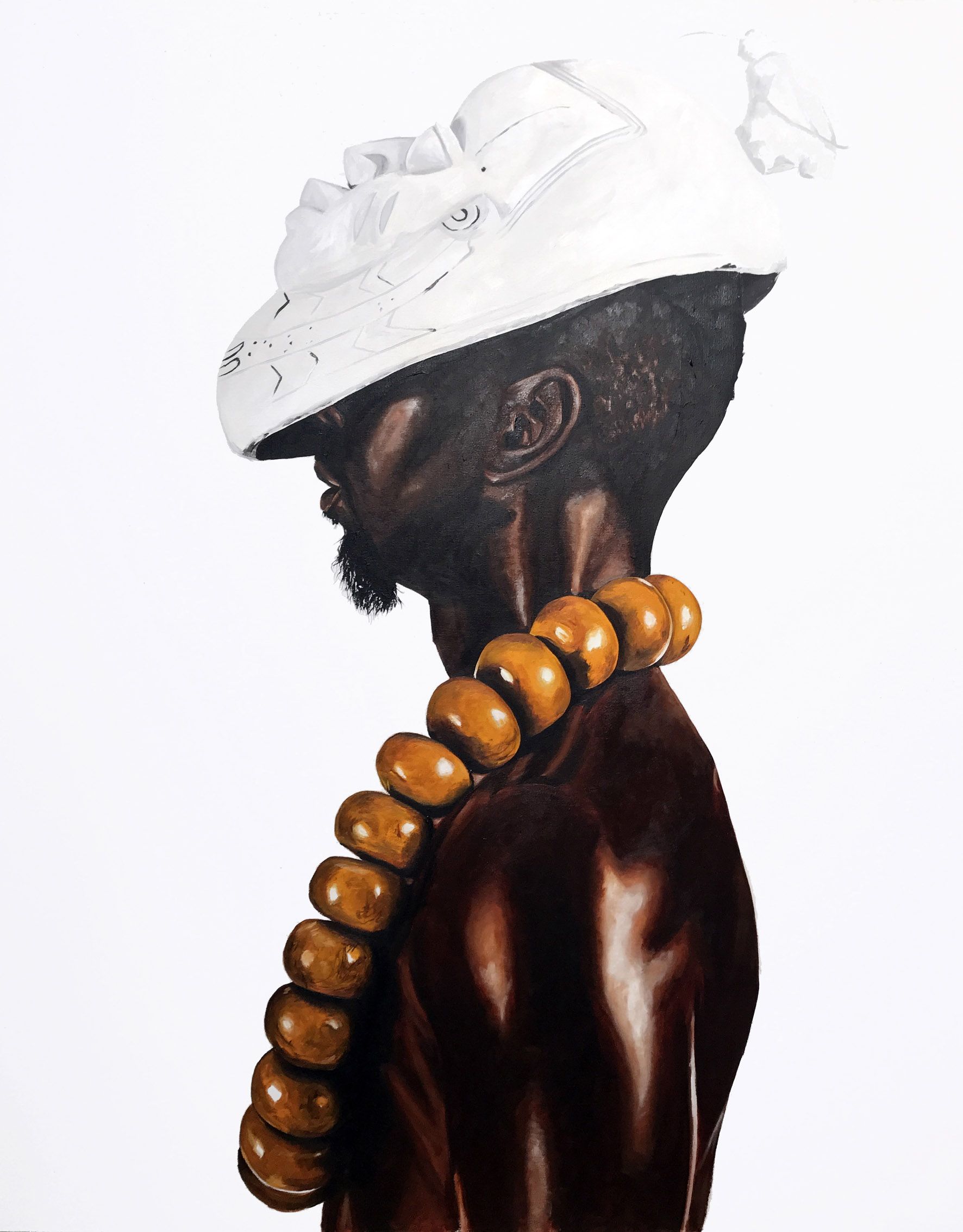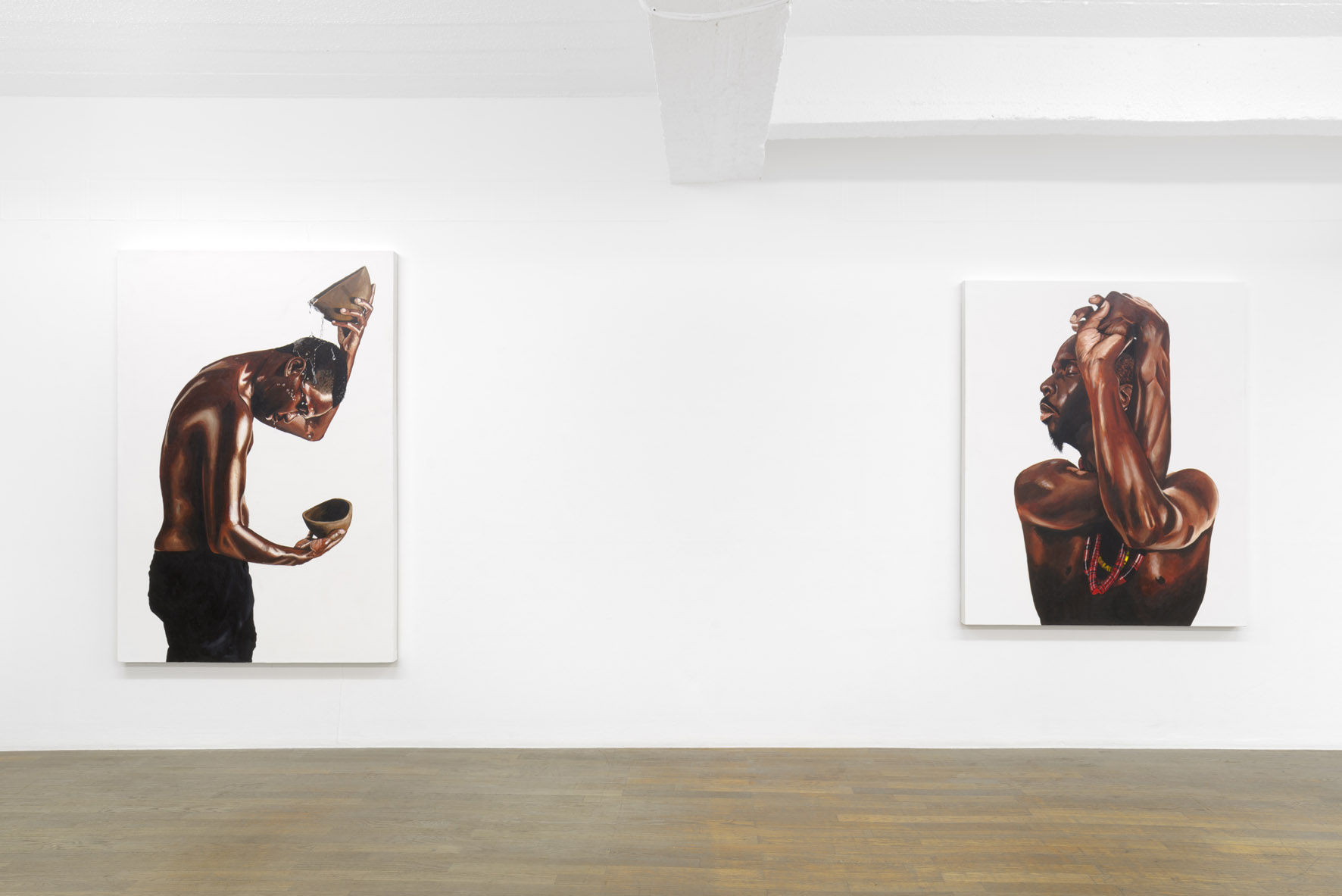 photos : Jérôme Michel



PRESS RELEASE BELOW

 
En parallèle à « Miroirs de l'homme », la rétrospective de son œuvre organisée par la Collection Société Générale et Backslash, ainsi que la publication de la monographie « Visible Man », l'artiste américain Fahamu Pecou présente BLACK MAGIC, sa quatrième exposition personnelle à la galerie.

Le nouvel ensemble d'œuvres exposées propose une perception plus juste et objective de l'homme noir en opposition à l'imagerie faussée héritée de l'ère coloniale qui, malgré sa puissance destructrice, n'a pas réussi à totalement effacer l'héritage de la culture et de la beauté noires.
A travers un corpus d'œuvres de formats et médiums différents, Fahamu Pecou tend à montrer l'importance et la beauté de l'héritage ancestral africain et de l'homme noir. Pendant des siècles, la culture et la spiritualité africaines ont été perçues et traitées comme démoniaques, effrayantes, comiques ou encore ignorantes. Les effets dévastateurs de la colonisation ont construit une image injuste et révoltante des africains et de la culture noire, notamment par l'imagerie publicitaire. Cette injustice a également débordé sur les mentalités africaines elles-mêmes, si bien qu'au sein de la société noire, de nombreuses personnes de descendance africaine (sur le continent mais aussi à travers la diaspora) se sont vues ou se voient encore aujourd'hui par le biais de ces images néfastes et pernicieuses.
Fahamu Pecou tente de proposer une vision authentique et honnête de l'homme noir. Dans ses dessins et ses peintures, il dévoile une iconographie liée à l'héritage africain, notamment par le biais de la liturgie Yoruba, religion ancestrale de l'Afrique de l'Ouest. Un système de codes et d'icônes laisse apparaître la beauté, la puissance et l'autonomie indéniable du continent liminaire africain. Fidèle à ses autres séries de toiles, il peint des autoportraits poignants où son corps se pare de costumes, objets et masques de l'Afrique de l'Ouest. L'artiste transcende ici toute la beauté de l'âme noire et rappelle que BLACK IS BEAUTIFUL.
L'artiste explique : « Malgré des efforts importants pour diminuer et dévaluer les contributions de l'Afrique au monde en général, une grande partie de son iconographie, de ses pratiques spirituelles et de ses idées, persiste telle une mémoire culturelle dans le monde entier. Dans toute la diaspora africaine, de nombreux aspects des cultures africaines autochtones subsistent dans la pratique quotidienne. Des croyances religieuses à diverses formes d'art, du langage corporel à d'autres formes de communication non verbales, ces «africanismes» font largement partie de notre vie quotidienne. »
Le travail de Fahamu Pecou a été exposé dans le monde entier, notamment au Museum Of Contemporary Art et au High Museum d'Atlanta ou encore au Halsey Institute of Contemporary Art de Charleston. Son travail est présent dans de nombreuses collections publiques telles que le Seattle Art Museum, le Smithsonian National Museum of African American History and Culture de Washington, The West Collection de Philadelphie ou encore la Collection Société Générale. Fahamu Pecou est Docteur diplômé de l'Institute of Liberal Arts, Emory University d'Atlanta.
→ Une signature de la monographie sera organisée pendant le vernissage, le jeudi 9 novembre, à Backslash.
La rétrospective à la Collection Société Générale est visible jusqu'au 25 novembre sur réservation sur le site : http://collectionsocietegenerale.com/fr/visiter_la_collection/fahamu_pecou/
\
American artist Fahamu Pecou presents BLACK MAGIC at Backslash, his fourth solo exhibition at the gallery. The show coincides with Miroirs de l'homme, a retrospective of his work organised jointly by the Société Générale Collection and Backslash, and the publication of his monograph Visible Man. The exhibition features a new series of works that reorients perceptions of Black identity and culture. This perception contrasts with the distorted images of Blackness inherited from the colonial era, whose destructive power did not succeed in totally destroying the legacy of Black culture and beauty.
Fahamu Pecou employs various media to highlight the importance and beauty of African ancestral heritage and provide a glimpse into new views of Black identity. Throughout history, African culture and spirituality have been perceived and treated as diabolical, frightening, comical or embedded in ignorance. The devastating effects of colonisation resulted in unjust and revolting representations of Africans and Black culture, conveyed, for example, by advertising images. This injustice has also influenced the thinking of people of African descent, the result is a skewed self-perception impacts the way people throughout the African Diapsora have viewed and in many ways, still see themselves.
Fahamu Pecou's goal is to invite an authentic and honest view of the Black identity. His drawings and paintings depict an iconography rooted in African heritage, including imagery linked to Yoruba, the ancestral religion of West Africa. A system of codes and icons reveals the undeniable beauty, power and autonomy of Africa. Staying faithful to his other series of works, he paints poignant self-portraits, his body draped in costumes, objects and masks from West Africa. Here the artist lays bare the full beauty of the Black soul, reminding us that BLACK IS BEAUTIFUL.
The artist explains : « Despite significant efforts to diminish and devalue Africa's contributions to the world-at-large, much of its performance, iconography, spiritual practices, and ideas persist as cultural retentions throughout the world. All across the African Diaspora, many aspects of indigenous African cultures endure in everyday practice. From religious beliefs to various forms of art to body language and other non-verbal forms of communication, these "Africanisms" are a large part of our daily lives. »
Fahamu Pecou's work has been shown throughout the world, including at the Museum of Contemporary Art of Georgia and High Museum of Art in Atlanta, and the Halsey Institute of Contemporary Art in Charleston. His art also features in numerous public collections, such as at the Seattle Art Museum, Smithsonian National Museum of African American History and Culture in Washington, The West Collection in Philadelphia and the Société Générale Collection in Paris. Fahamu Pecou has a Ph.D. from Emory University's Institute of Liberal Arts (ILA) in Atlanta.
→ Monograph signings will be organised during the private view on Thursday 9 November at Backslash.
The Société Générale Collection retrospective is running until 25 November. Visits must be booked on the website: http://collectionsocietegenerale.com/fr/visiter_la_collection/fahamu_pecou/


PRESSE
Valérie Toubas, Daniel Guionnet, Fahamu Pecou - Entretien, Point Contemporain, 2017
"L'âme noire de Fahamu Pecou", Figaroscope, 2017