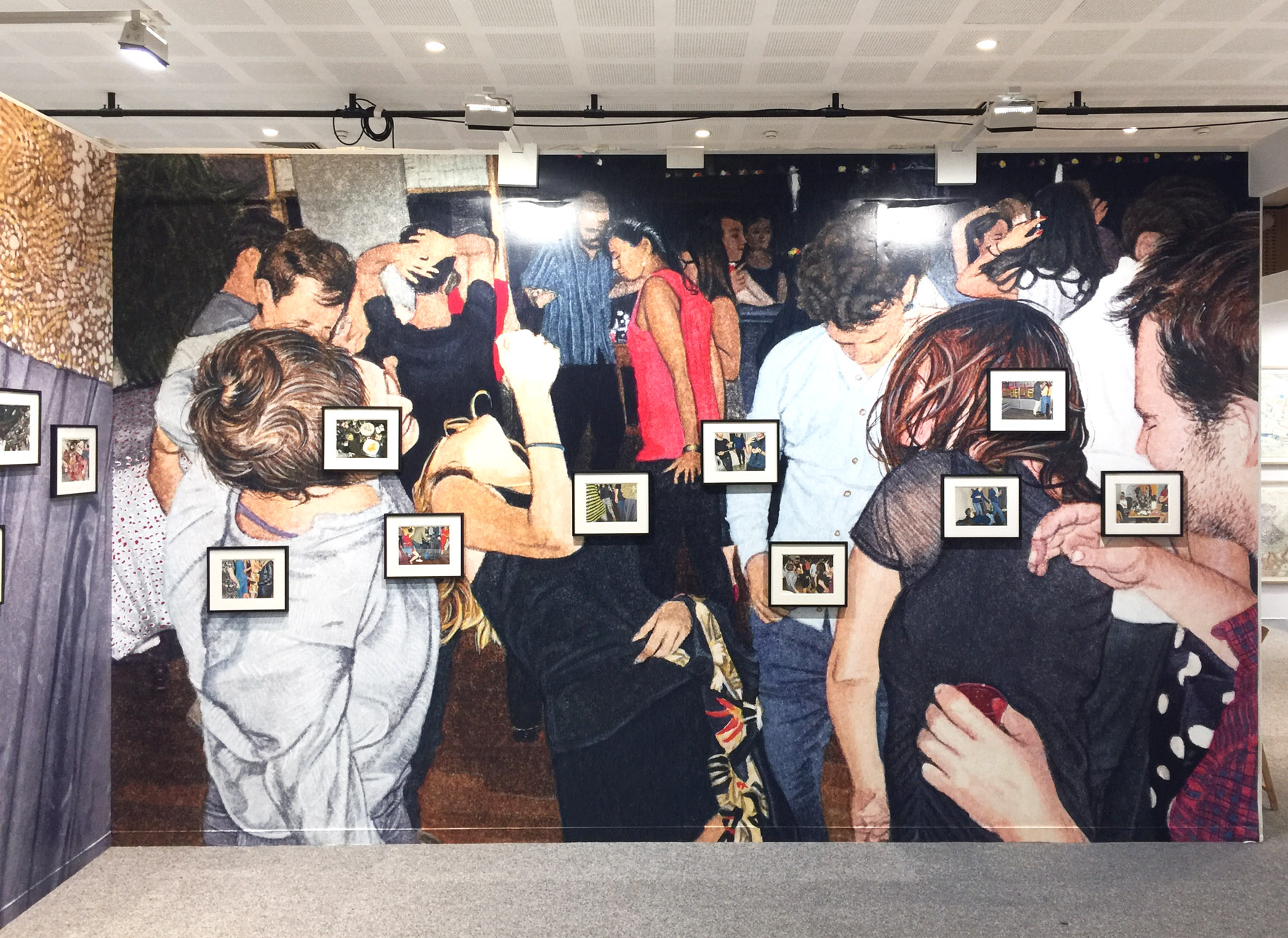 A l'occasion de DRAWING NOW 2017, Backslash est heureuse de présenter un projet inédit axé sur la série d'aquarelles de fêtes de Thomas Lévy-Lasne. La totalité du stand, recouvert de reproductions monumentales d'œuvres en all-over, constitue une mise en abyme spectaculaire et saisissante pour ces délicates aquarelles encadrées. A la fois décor de pièce de théâtre et de cinéma (Thomas Lévy-Lasne est également réalisateur), les impressions saturées viennent brouiller la lisibilité des aquarelles.
L'artiste nourrit sa base de données photographique dans ces soirées et faufile son regard sur le moindre détail : gobelets remplis d'alcool, cendriers pleins à ras-bord, nappes affichant les stigmates de canettes de bière, etc. Les personnages représentés paraissent des figurants dont les vêtements semblent attirer l'attention première de l'artiste. Le traitement des tissus, l'importance accordée à de petits éléments tels des confettis, des traces de pas sur un carrelage, tout est sujet à une monstration de la maîtrise parfaite de Thomas Lévy-Lasne pour le travail d'aquarelle. Le spectateur devient un observateur amusé ou mélancolique de ces scénettes et laisse son regard voguer et imaginer une atmosphère familière ; ces images d'Epinal proposent un visage sur une génération à la fois festive mais fragile.
Thomas Lévy-Lasne est diplômé de l'Ecole Nationale Supérieure des Beaux-Arts de Paris.
A l'occasion du salon, un catalogue sur la série des fêtes a été expressément édité par les Editions de la Ménagerie dirigées par le critique d'art Patrick Scemama et accompagné d'un texte de l'écrivain Aurélien Bellanger, Prix de Flore 2014 :
Thomas Lévy-Lasne, Aurélien Bellanger, La fête, 21 x 24 cm, 60 pages, 1500 exemplaires, Editions de la Ménagerie, Paris, 2017. Prix : 25 €
Disponible aux Editions de la Ménagerie, à la galerie ou sur commande : info@backslashgallery.com
\

For its participation to Drawing Now 2017, Backslash is pleased to present an unprecedented project focused on the series of watercolors by Thomas Lévy-Lasne, all linked to the theme of the party. The booth, totally covered by monumental reproductions of works, creates a spectacular and striking mise en abyme for these delicate framed watercolors. In a cinema set style (Thomas Lévy-Lasne is also a movie director), the all-over printings interfere with the readability of the works.
The artist constantly feeds his photographic database at parties he attends and focuses his eyes on small details: paper cups filled with alcohol, dirty ashtrays, tablecloths covered by beer can marks, etc. The persons drawn on the works look like extras to the scenes and their clothes seem to catch the artist's main attention. The treatment of the fabrics, the importance given to very small details such as confetti or shoe marks on the floor, all of these details are subjects for Thomas Lévy-Lasne to show his perfect control of watercolor work. The viewer becomes an amused or melancholic observer of these sketches and recognizes familiar ambiances. These images present an appearance to a festive but fragile generation.
Thomas Lévy-Lasne graduated from the Ecole Nationale Supérieure des Beaux-Arts of Paris.
On the occasion of Drawing Now, a catalogue presenting the watercolor series and a text by the 2014 Prix de Flore Aurélien Bellanger, has been expressly published by Editions de la Ménagerie founded by the art critic Patrick Scemama :
Thomas Lévy-Lasne, Aurélien Bellanger, La fête (The Party), 21 x 24 cm, 60 pages, French, 1500 ex., Editions de la Ménagerie, Paris, 2017. Price : 25 €
Available at Editions de la Ménagerie, at the gallery or by order : info@backslashgallery.com



DRAWING NOW PARIS | LE SALON DU DESSIN CONTEMPORAIN
Le Carreau du Temple
4 rue Eugène Spuller
75001 Paris


www.drawingnowparis.com
PRESSE \ PRESS
Eléonore Thery, "A Drawing Now, le dessin a bonne mine", Le Journal des Arts, 2017
Judicaël Lavrador, "Les mondes troubles et infinis du dessin contemporain", Beaux-Arts Magazine, 2017
Roxana Azimi "Entrevue avec Christine Phal", Le Quotidien de l'Art, 2017
Anne Kerner, "La semaine du dessin : Paris, capitale d'encre et de papiers" Paris Capitale, 2017
Emmanuelle Lequeux, "Au salon Drawing Now, le dessin a montré sa meilleure mine", Le Monde, 2017
Philippe Azoury "Peindre ou faire la fête" Grazia, 2017
"Comme larrons en foire(s)" Art Media Agency, 2017