SOMETIMES YOU LIVE TWICE



du 9 septembre au 28 octobre 2017
\

from September 9 to October 28, 2017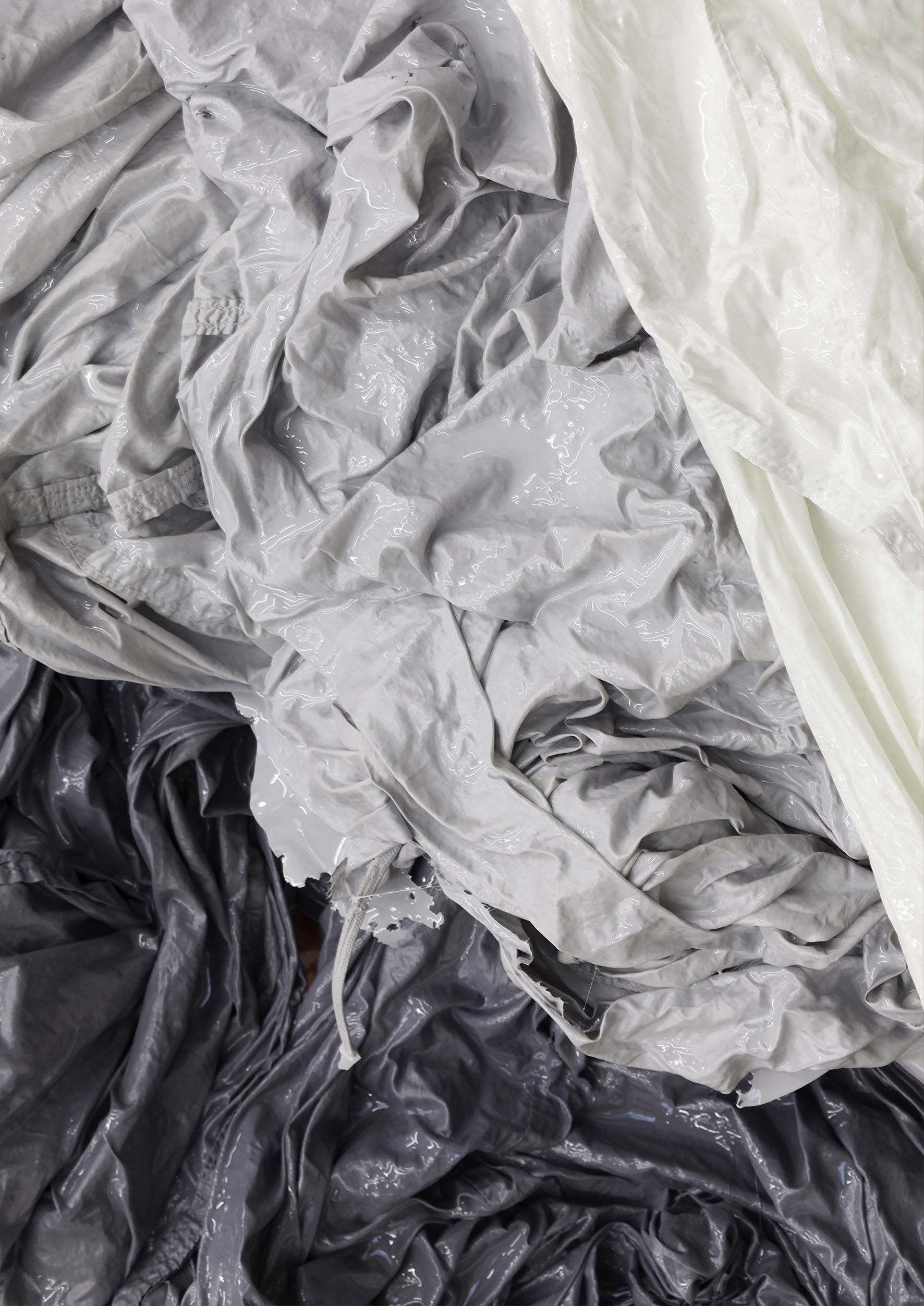 crédit photos : Jérôme Michel


PRESS RELEASE BELOW

 
Backslash a le plaisir de présenter SOMETIMES YOU LIVE TWICE, la seconde exposition personnelle de Clemens Wolf à la galerie, avec un ensemble monumental de la série « Parachute objects » réalisée à partir de parachutes vétustes et obsolètes, dans une démarche proche de celle de l'Arte Povera. Matériau de prédilection de l'artiste autrichien, le tissu plastifié permet de jouer avec les formes et les couleurs et lui de conférer une esthétique étonnante de plis et replis qui fascinent et déroutent le regard.
A regarder le travail obsessionnel et mystérieux de Clemens Wolf, on découvre que la surface des œuvres de cette série, à la palette très riche, révèle un monde proche de l'organique. Si les contractions du tissu sont également pour l'artiste une représentation stylisée de l'état de décomposition et de pourriture, la résine utilisée pour fixer les plis confère aux œuvres un aspect brillant unique et la délicatesse des fils de parachutes enroulés souligne cette intensité.
L'utilisation du parachute, léger et aérien, renvoie à la notion fondamentale de la gravité terrestre.
Avec cette série des « Parachute Objects », Clemens Wolf attache une importance particulière à la frontière entre peinture, sculpture et dessin et mène une réflexion intense sur le sens du geste créatif et le statut d'oeuvre d'art.
L'artiste décline sans concession cette série hantée par sa propre histoire (il pratique intensément le parachutisme). C'est une démarche ancrée dans la recherche de perfection et d'absolu qui refuse toute projection figurative ou narrative. Proche de l'expressionnisme abstrait, cette série d'oeuvres rappelle les recherches obsédantes de John Chamberlain ou de Jackson Pollock. L'idée, déclinée à l'infini, projette l'observation aigüe de l'artiste pour le matériau et la couleur.
Le travail de Clemens Wolf a été récompensé par plusieurs prix en Autriche et a été exposé dans de nombreux pays, notamment l'Allemagne, la Suisse, la Chine, Israël ou encore les Etats-Unis. Ses œuvres font partie de nombreuses collections publiques autrichiennes, dont celle du prestigieux Musée Essl de Vienne.

\
Backslash is delighted to present SOMETIMES YOU LIVE TWICE, Clemens Wolf's second solo exhibition at the gallery. The show features a selection of monumental pieces from the "Parachute objects" series, made from old and dilapidated parachutes using an Arte Povera-style approach. The plastic-coated fabric, one of the Austrian artist's favourite materials, is ideal for playing with shapes and colours, turning the work into an astonishing landscape of folds and tucks that draw and disconcert the eye.
When we examine Clemens Wolf's obsessive and mysterious work, we realise that the surface of the pieces in this series, with its powerfully vivid palette, reveals a world that is almost organic. While the artist sees the fabric's contractions as a stylised representation of decomposition and decay, the resin he uses to hold the folds in place gives the works a distinctive glossy aspect and an intensity that is brought out by the delicacy of the coiled up parachute cords. The choice of such a lightweight and aerial object as the parachute conjures up the fundamental notion of gravity.
With this series of "Parachute Objects", Clemens Wolf places great importance on the frontier between painting, sculpture and drawing, proposing a deep-reaching reflection on the meaning of the creative act and the status of the artwork. The artist produces an uncompromising multiplicity of versions in a series haunted by his own history (he is a passionate parachutist). His artistic approach is rooted in the quest for perfection and the absolute that rejects all forms of figurative or narrative projection. Similar to abstract expressionism, this series of works brings to mind the compulsive explorations of John Chamberlain and Jackson Pollock. The idea, endlessly multiplied, conveys the artist's acute sense of material and colour.
Clemens Wolf's work has been awarded several prizes in Austria and exhibited in many countries, including Germany, Switzerland, China, Israel and the USA. His works are featured in numerous public collections in Austria, including the prestigious Essl Museum in Vienna.
 
Presse / Press
Laura Bourdon, "Que voir en galerie à la rentrée de septembre ?", Exponaute, 2017