5 - 8 MARS 2015
\ MARCH 5 - 8, 2015


RERO


STAND \ BOOTH E3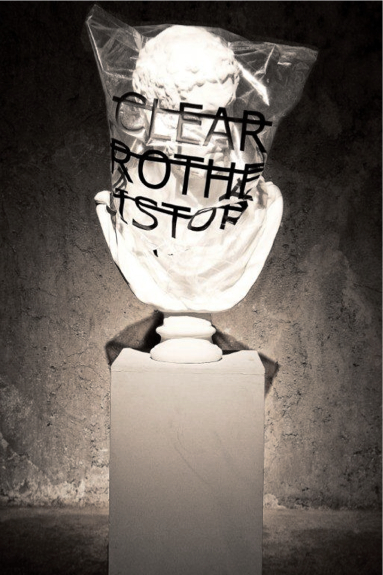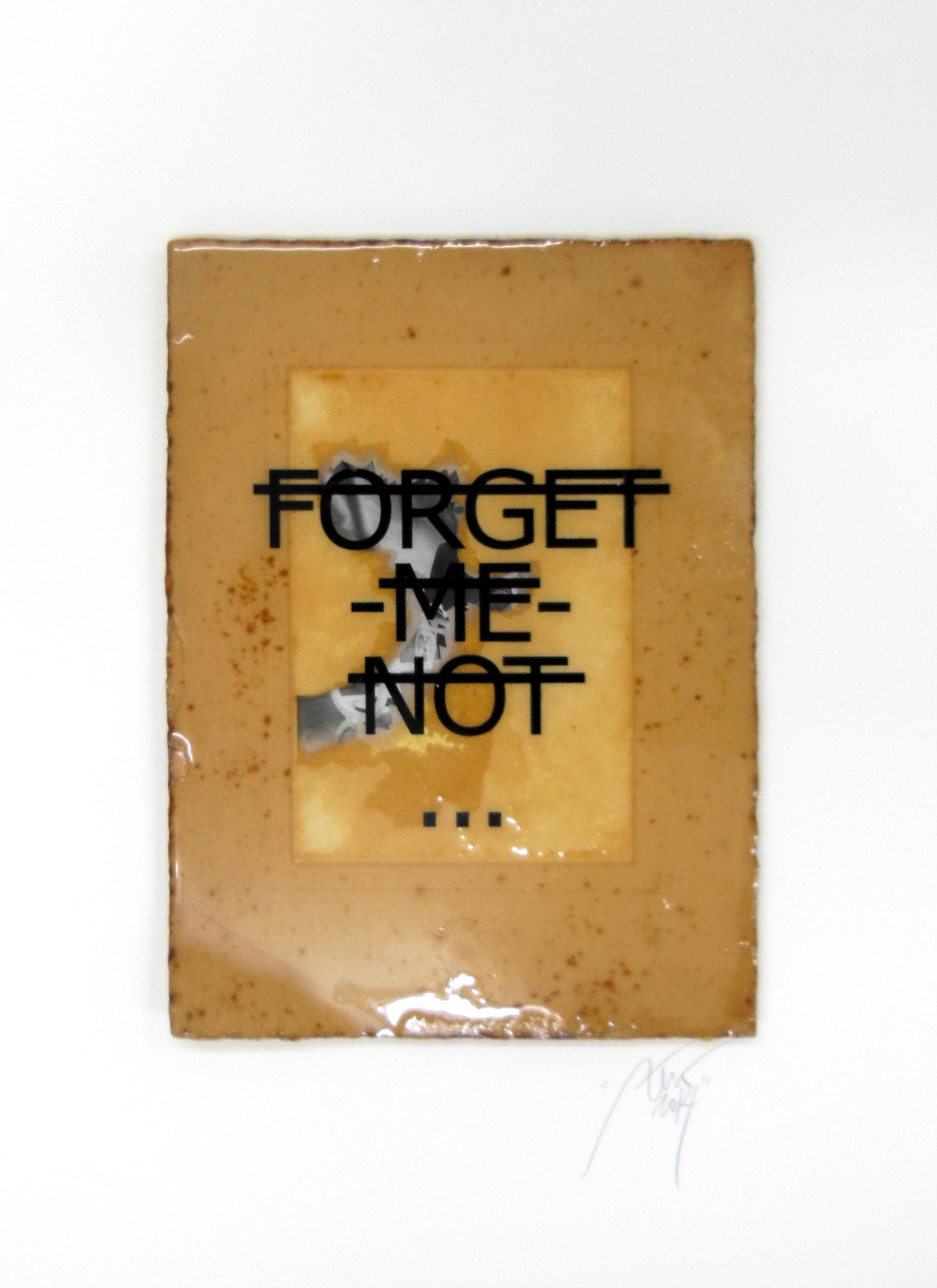 Backslash Gallery is proud to present a solo show by French artist Rero, featuring a selection of his latest works on a variety of surfaces, including charred wood, cast busts and vintage photographs, where his signature phrases crossed out with a stark black line reveal his obsession with image negation.
Born in 1983, Rero develops his famous crossed out words, instantly recognizable as his distinctive visual style and often seen in public spaces, including the façade of the Pompidou Centre in Paris. A multi-disciplinary artist, he challenges the codes governing ownership of intellectual property and images, from technology and consumerism to language and obsolescence. Negation, self-censorship and distortion are the keywords that characterize his work.
Using crossed out phrases such as This image is not available, Error 404 or Your entire life is online — always in the same Verdana font — the artist seeks to confuse viewers, forcing them to make multiple interpretations: each of us sees a double meaning in the negation of these words.
Continually stretching the boundaries of his artistic mediums, Rero frequently questions art, society and history, notably with a bust of Geta, the joint Roman emperor murdered so that his brother Caracalla could rule alone. Geta's face is asphyxiated by a plastic tarpaulin beneath which can be read the crossed out words Clear Brother History.
Rero's work has been shown at major venues including the Pompidou Centre and Grand Palais in Paris. His work also appears in a variety of other countries, including Brazil, the USA and throughout Europe. Numerous publications of his works have appeared, including a monograph published by Editions Gallimard, Paris.
\
La galerie Backslash est fière de proposer un solo show de l'artiste français Rero, présentant une sélection de ses dernières séries sur divers matériaux, dont le bois brûlé, les bustes et les photographies anciennes, et sur lesquels sa signature de mots barrés d'une épaisse ligne noire révèle son obsession pour la négation de l'image.
Né en 1983, Rero développe ses fameuses lettres barrées, instantanément reconnaissables comme le signe visuel distinctif de son travail et souvent présentées dans l'espace public, notamment sur la façade du Centre Pompidou. Artiste pluridisciplinaire, il questionne les codes qui gouvernent la propriété intellectuelle et l'image, de la technologie et du consumérisme au langage et à l'obsolescence programmée. Négation et auto-censure sont les maître-mots de son travail.
A travers des formules barrées telles que This image is not available, Error 404 ou Your entire life is online, toujours dans la même police Verdana, l'artiste cherche à brouiller l'esprit du spectateur dont les pistes d'interprétations deviennent alors multiples. Chacun d'entre nous voit dans la négation de ces mots un double sens qui peut également devenir parfait contre-sens.
En perpétuelle recherche sur les limites de l'expression artistique, Rero s'interroge fréquemment sur les questions de l'art, la société et l'Histoire, notamment avec le buste de Geta, empereur romain assassiné par son propre frère Caracalla à des fins de règne sur l'Empire, et dont le visage est asphyxié dans un plastique sur lequel les mots barrés « CLEAR BROTHER HISTORY » apparaissent.
Les oeuvres de Rero ont été présentées dans de nombreuses institutions publiques comme le Centre Pompidou et le Grand Palais, et à travers le monde, notamment au Brésil, aux Etats-Unis et à travers l'Europe. De nombreuses publications ont été éditées, dont une monographie aux Editions Gallimard, Paris.
VOLTA NY
Pier 90
West 50th Street & 12th Avenue
New York City, NY 10036