RERO

ERREUR 404
(ERROR 404)

du 12 février au 12 mars 2011

\
From February 12 to March 12, 2011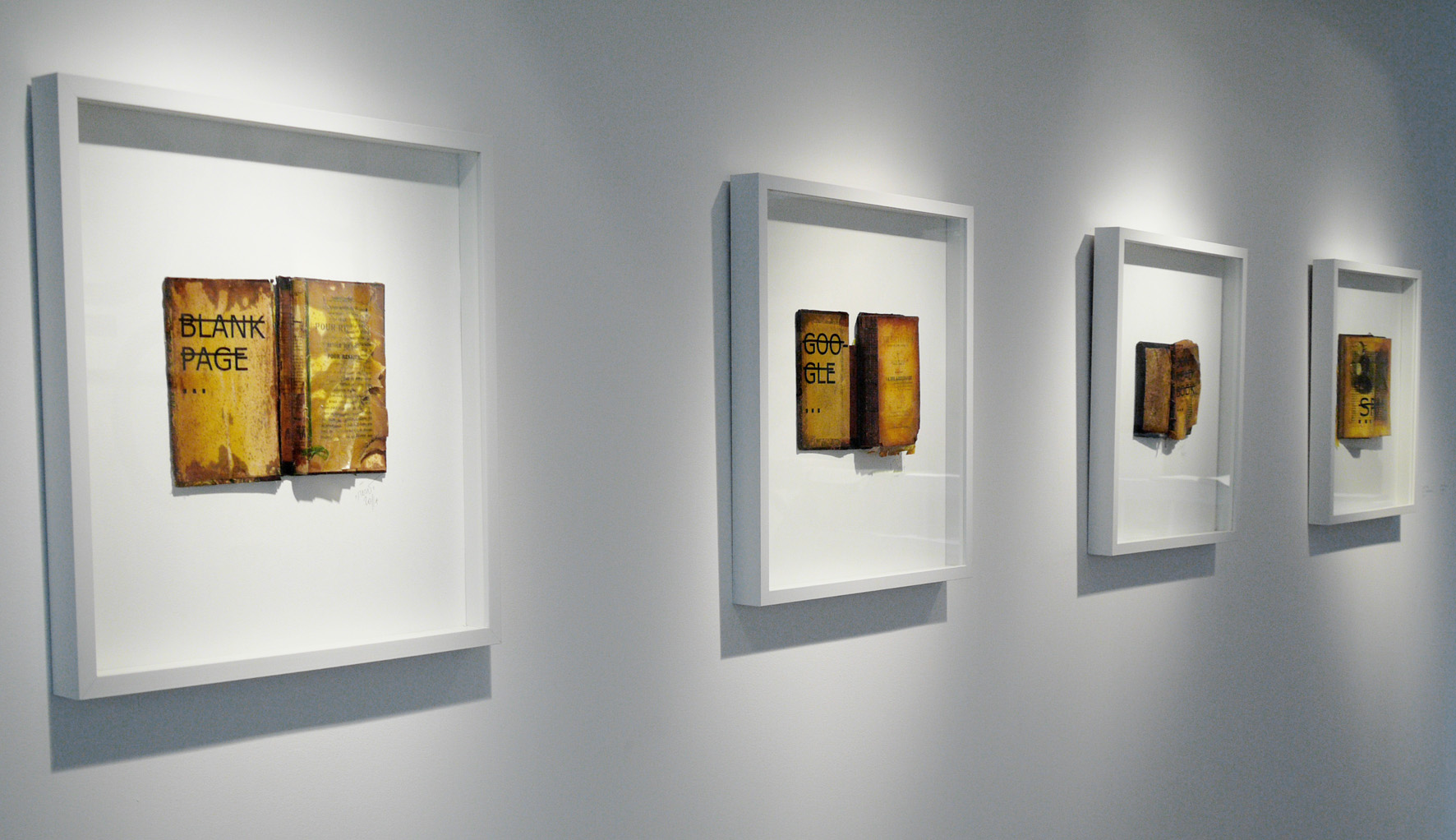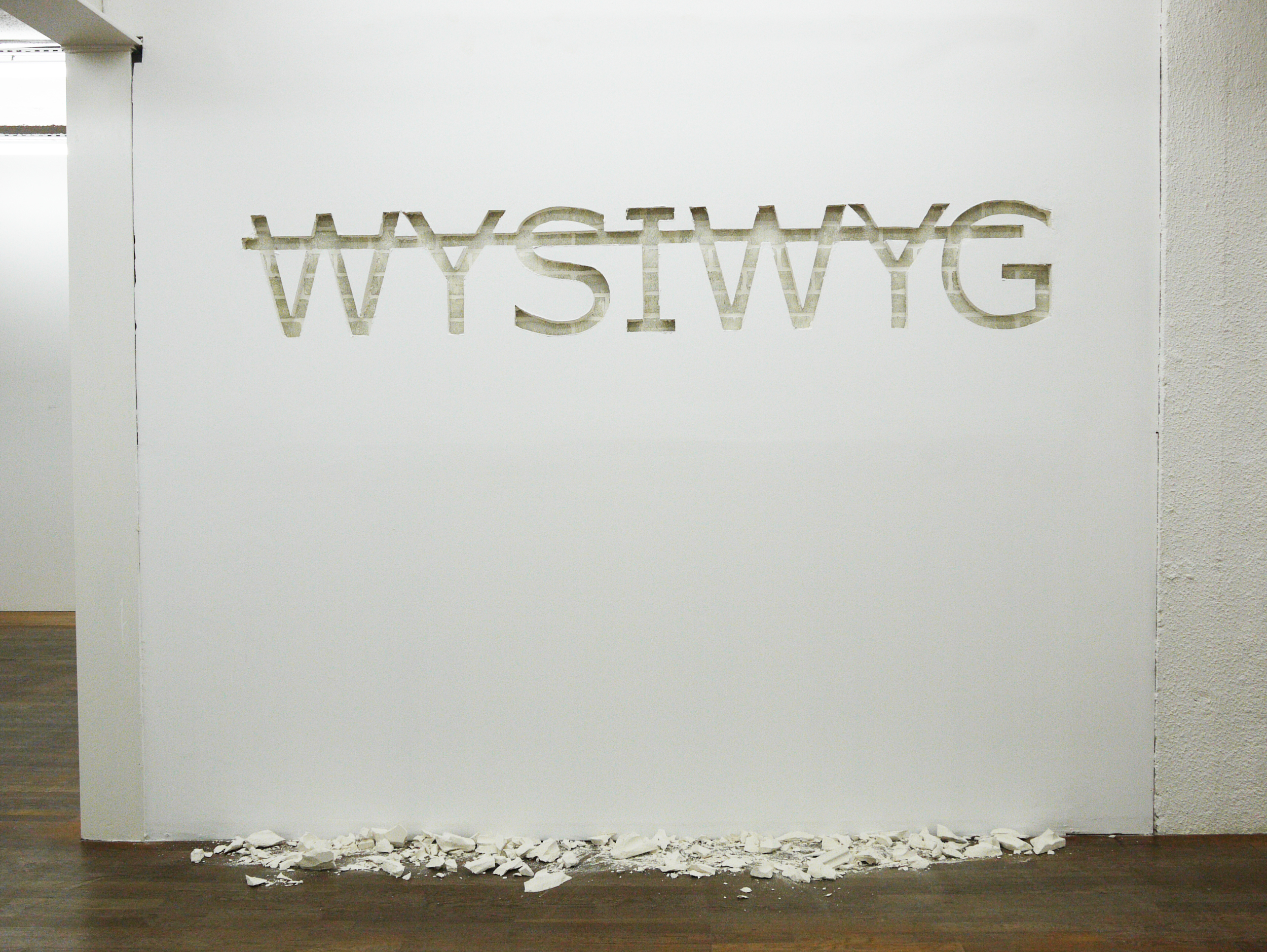 À travers une série d'installations étonnantes, l'artiste français Rero réinvente l'espace de la galerie Backslash et lui confère un air de rue, à l'image de ses interventions dans le paysage urbain. Tas de livres abîmés et abandonnés par terre, mur partiellement détruit ou encore panneau publicitaire dont l'ombre se reflète sur le sol… Les insolences de l'artiste viennent se confronter à des toiles qui jouent sur le thème de la négation de l'image.
A mi-chemin entre street-art et art conceptuel, Rero a tout d'abord débuté dans la rue, à la recherche de lieux laissés à l'abandon où il pouvait poser son empreinte. L'extérieur a ensuite fait place au monde de l'intérieur et les toiles aux multiples matières, les résines ou encore les gaufrages sont venus enrichir son mode d'expression.
Artiste pluridisciplinaire, Rero interroge les codes de la propriété intellectuelle, de l'image ou du langage informatique et les dénonce en les barrant d'un épais trait noir. Comme l'expliquait Jean-Michel Basquiat, « je raye les mots pour qu'on les voie davantage. Le fait qu'ils soient rayés donne envie de les lire ». Négation, autocensure et détournement sont les maîtres-mots du travail de Rero.
A travers des formules barrées telles que Trade my mark, Error 404 ou This image is free copyright, l'artiste cherche à brouiller l'esprit du spectateur dont les pistes d'interprétations deviennent alors multiples. Chacun d'entre nous voit dans la négation de ces mots un double sens qui peut également devenir parfait contre-sens.
Rero a exposé son travail à l'Hybride de Lille, au Antje Oeklesund de Berlin, à la Maison des Métallos à Paris ou encore à la Bibliothèque Nationale de France. Il a également bénéficié d'une exposition personnelle à Confluences à Paris en 2010 et participe à une exposition de groupe à la Mairie des Lilas du 3 au 26 février 2011 avec notamment Speedy Graphito, JonOne ou encore Jef Aerosol.
\
French artist Rero is using a series of breath-taking installations to transform the Backslash gallery space: reflecting his interactions with the urban environment, he turns the gallery into a street. A pile of damaged books discarded on the ground, a partially destroyed wall, the shadow of an advertising billboard reflected on the floor… The artist's audacity contrasts with canvases that play on the theme of image negation.
Halfway between street art and conceptual art, Rero's life as an artist began in the street, as he searched for abandoned places where he could leave his mark. The outdoors then gave way to the indoors, and he has enriched his mode of expression with paintings in different materials, resins and embossing.
A multi-disciplinary artist, Rero questions codes governing intellectual property, images and computer language, denouncing them by scoring them out with a thick black line. Jean-Michel Basquiat explained "I cross out words so you will see them more. The fact that they are obscured makes you want to read them". Negation, self-censorship and distortion are the keywords in his work.
Using scored out expressions such as Trade my mark, Error 404 and This image is free copyright, the artist is seeking to confuse the viewer, whose interpretative responses are multiplied. Each of us sees a double meaning in the negation of these words—which could just as easily turn into total nonsense.
Rero has shown his work at the Hybride in Lille, Antje Oeklesund in Berlin, Maison des Métallos in Paris and the Bibliothèque Nationale de France. He has also had a dedicated exhibition at Confluences in Paris in 2010. He is taking part in a group exhibition at the Lilas town from 3 to 26 February 2011 with other artists including Speedy Graphito, JonOne and Jef Aerosol.
PRESSE \ PRESS
- under construction -