du 27 au 28 août 2016
\
August 27 - 28, 2016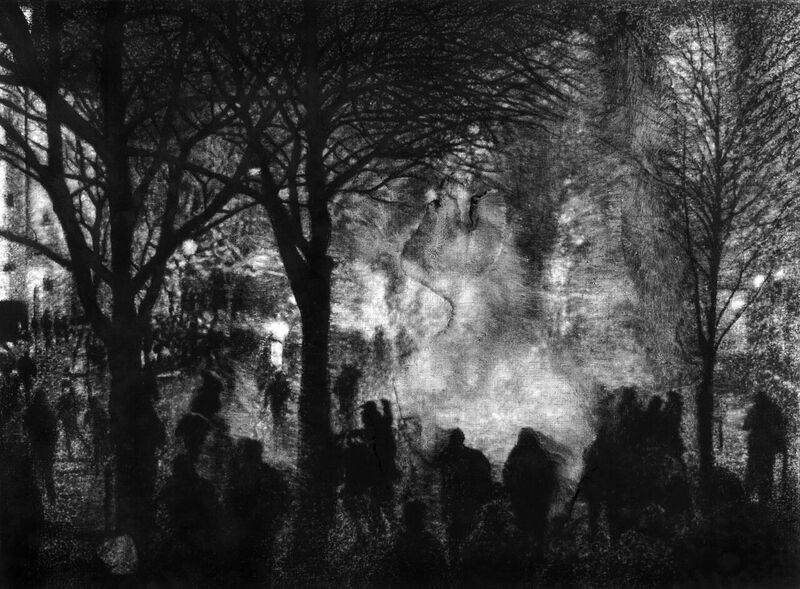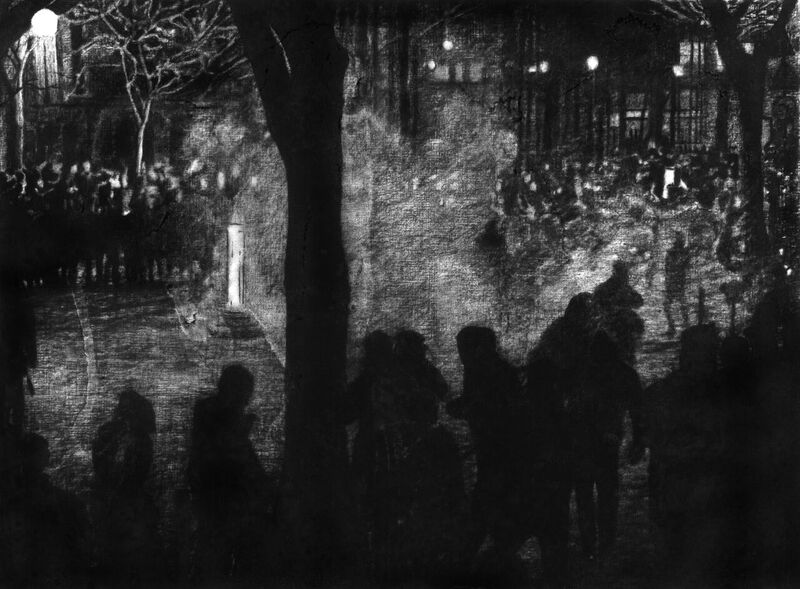 Backslash est heureuse de proposer un stand dédié au travail du plasticien français Thomas Lévy-Lasne et axé sur sa série de fusains de formats différents, avec notamment une oeuvre monumentale sur le thème de la forêt ainsi qu'une toute nouvelle série sur le thème des manifestations. Ces scènes de violence s'opposent à deux dessins plus intimes. L'espace privé est ainsi contrebalancé par le trouble et l'agitation et crée une tension particulière, comme sur le fil.
Thomas Lévy-Lasne puise son inspiration dans le quotidien. Il intensifie des moments de vie quotidienne afin de présenter des scènes où s'exacerbe son art des effets de lumière, jeux si particuliers et difficiles à maîtriser mais inhérents à la technique du fusain. Les dégradés de gris montrent des images chaotiques de manifestations où l'agitation crée une tension particulière. Pour ses noirs les plus profonds, Thomas Lévy-Lasne passe trois couches de fusain et accentue ainsi la densité du charbon et du clair-obscur. Un fixatif rend légèrement liquide le fusain et brouille le trait hyper précis de l'artiste.
Thomas Lévy-Lasne est diplômé de l'École Nationale Supérieure des Beaux-Arts de Paris. Son travail a été présenté dans de nombreuses expositions en France.
\
Backslash is proud to present a booth dedicated to Thomas Lévy-Lasne's work and focused on his series of charcoal on paper in different scales, notably a monumental work on the theme of the forest but also a brand new series representing protest marches. These scenes of violence are opposed to two intimate drawings. The private space is counterbalanced by agitation and confusion, it creates a very particular tension.
Thomas Lévy-Lasne finds his inspiration into everyday life. He intensifies moments of life and presents scenes that highlight his art of light effects which is the essence of charcoal. The gradation of grey shows chaotic images of demonstrations where agitation creates a specific tension. For his darker blacks, Thomas Lévy-Lasne plays with different layers of charcoal and highlights the density of the coal and the sfumato. A fixative makes the drawing a little bit liquid and scrambles the very precise line of the artist.
Thomas Lévy-Lasne is graduated from the École Nationale Supérieure des Beaux-Arts of Paris. His work has been shown in numerous exhibitions in France.

PAREIDOLIE ART FAIR
Salon international du dessin contemporain
International Contemporary Drawing Fair
Château de Servières
19 boulevard Boisson
Marseille, France