DR. FAHAMU PECOU
Of Crowns and Kings



du 6 septembre au 26 octobre 2019

\

from September 6 to October 26, 2019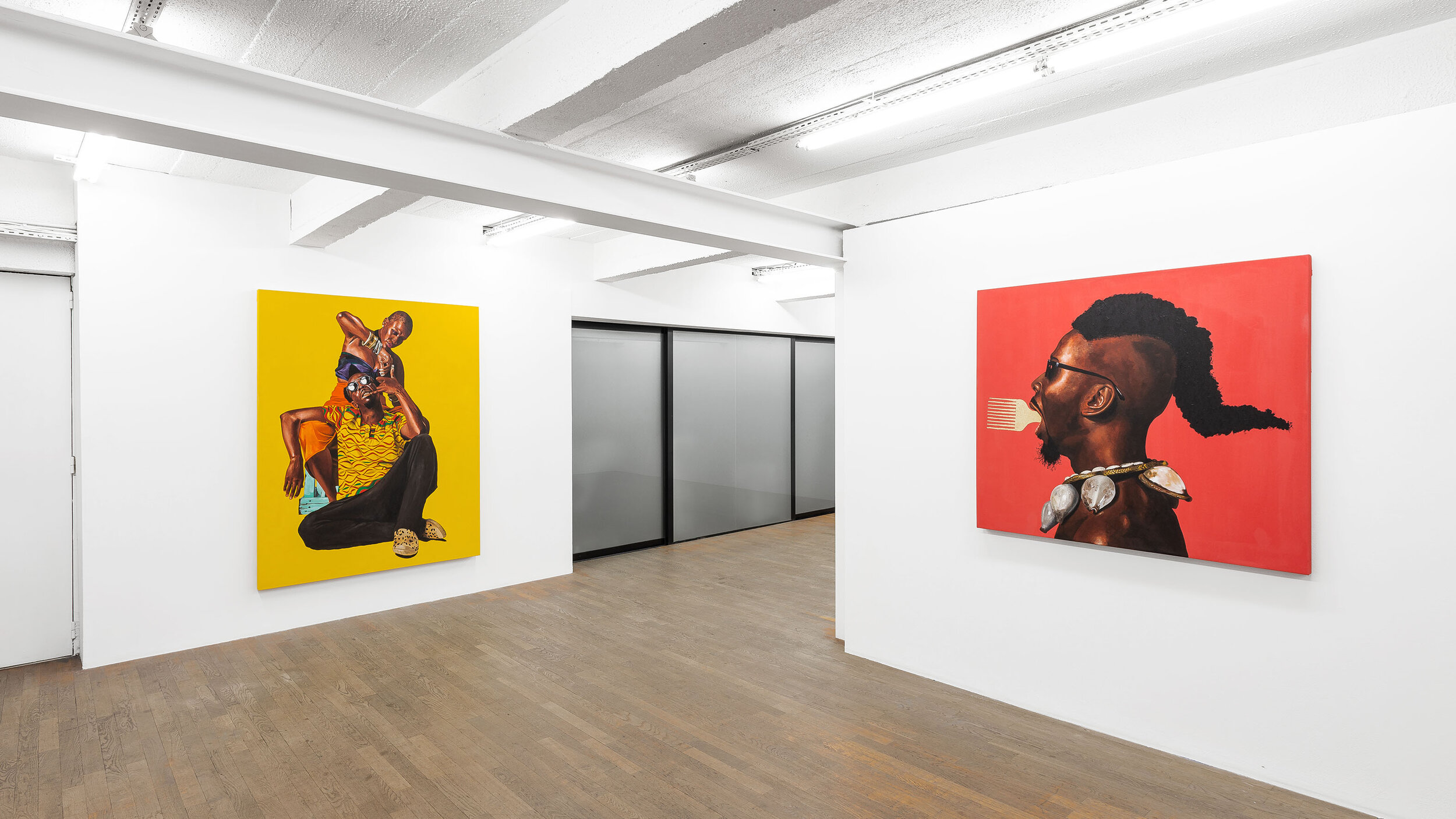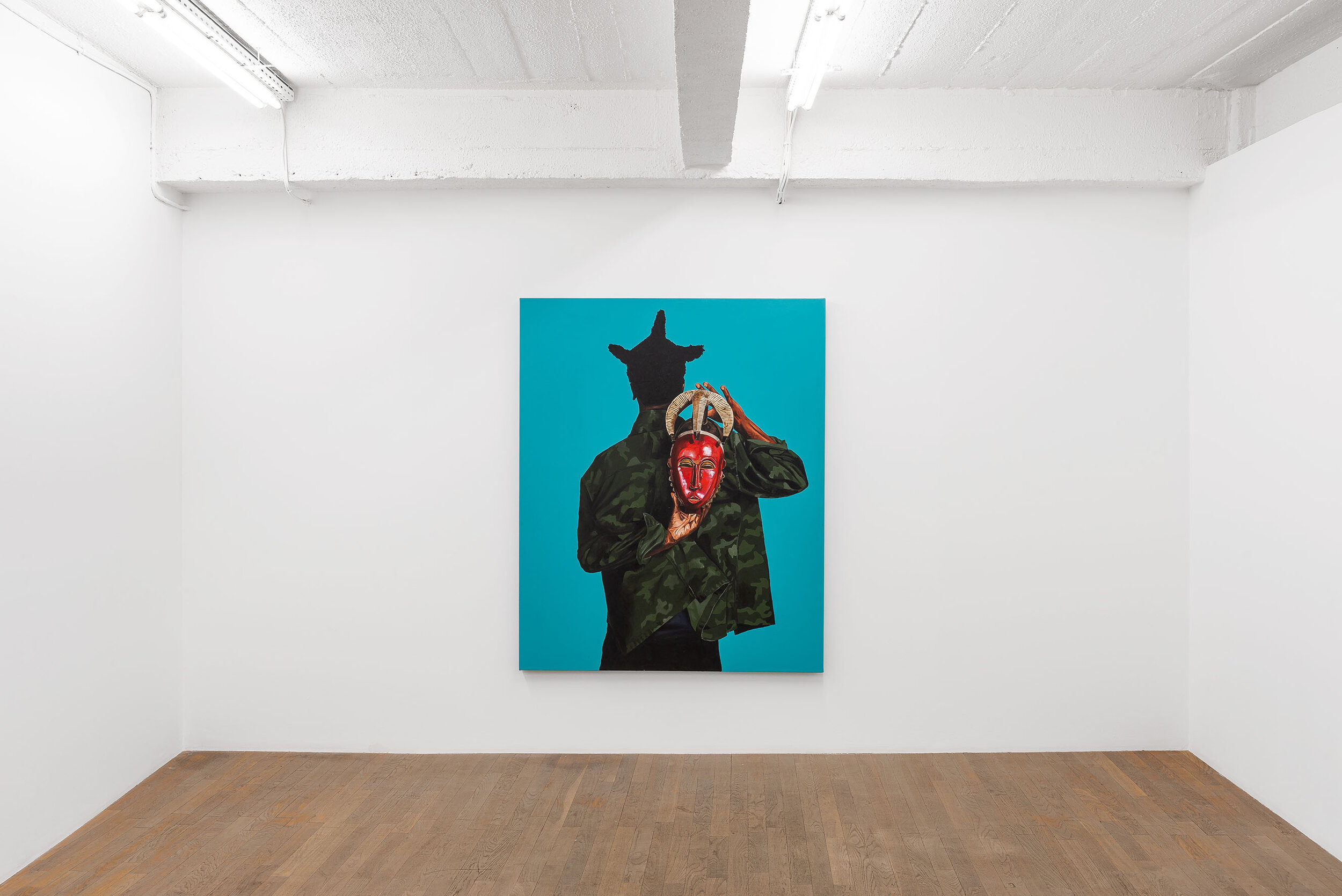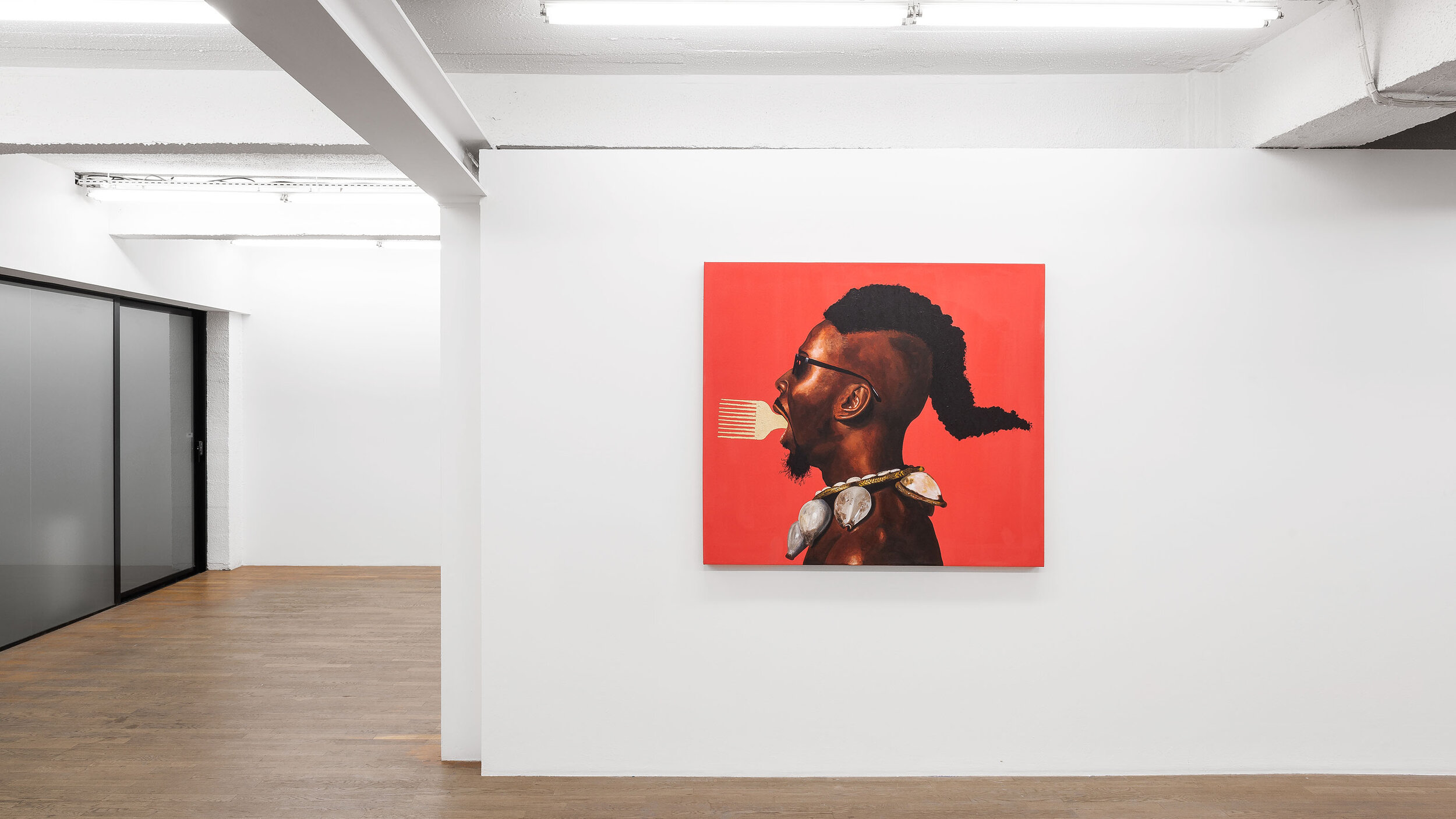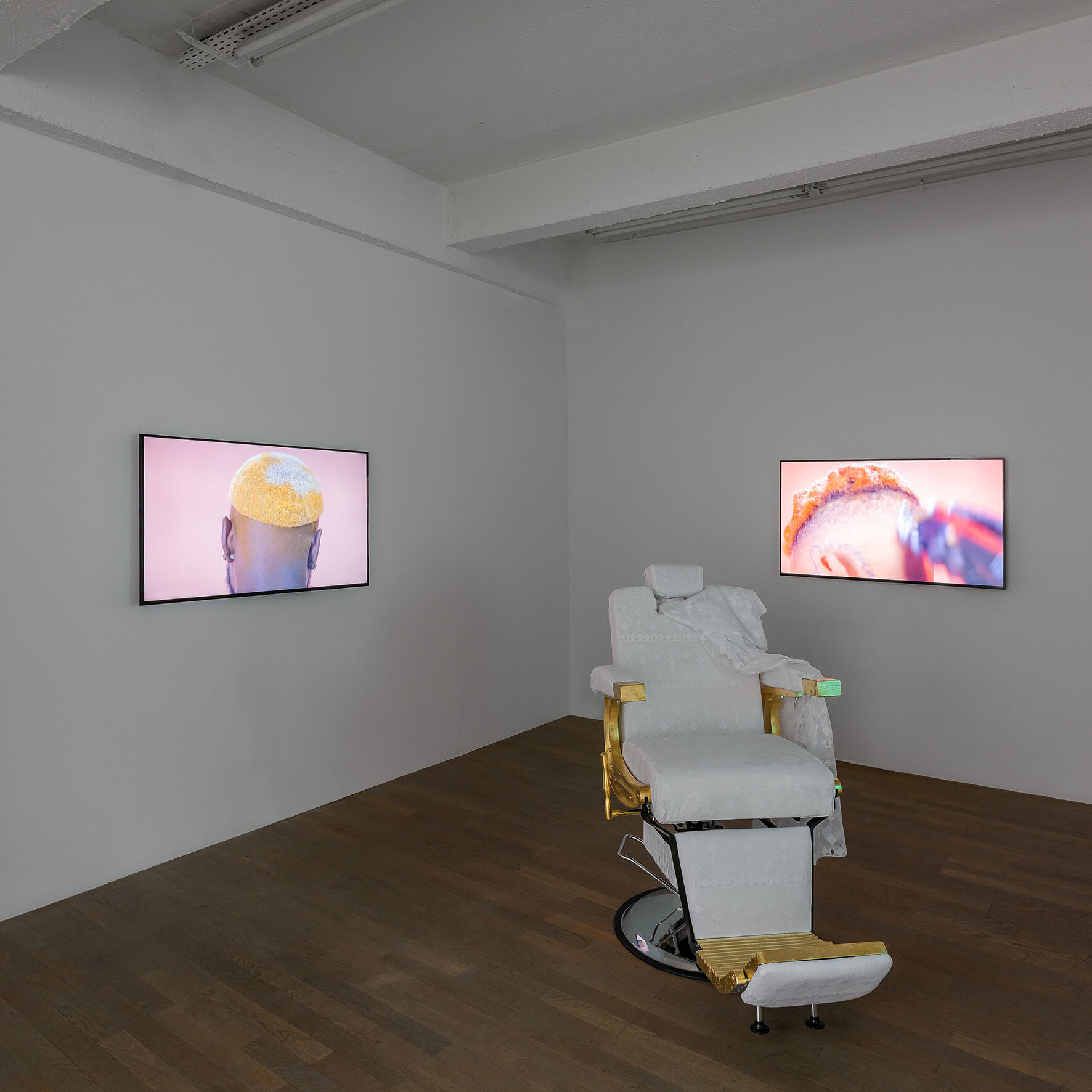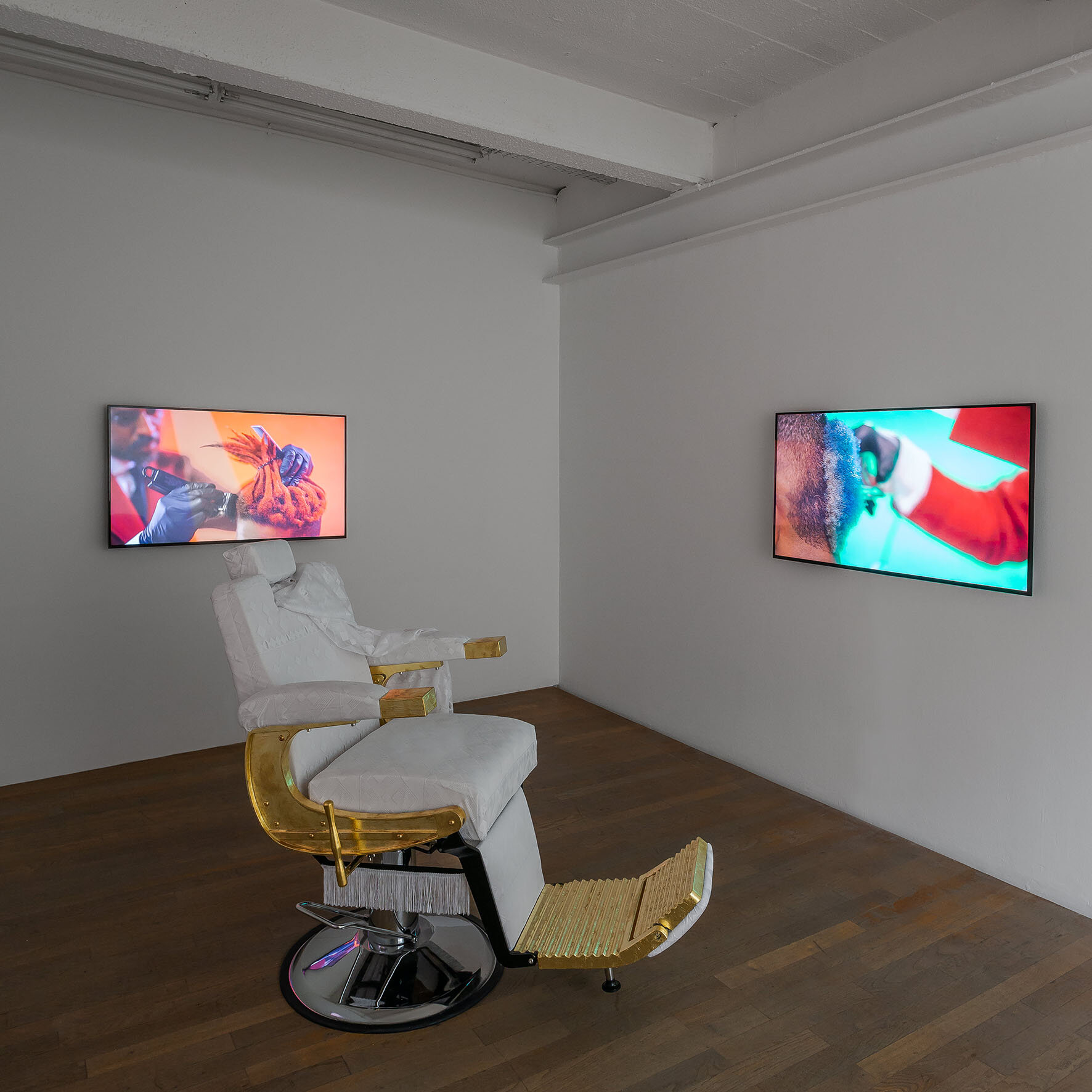 ENGLISH PRESS RELEASE BELOW


Depuis de nombreuses années, l'artiste américain Fahamu Pecou examine les codes esthétiques de la société afro-américaine, notamment le langage vestimentaire de la jeunesse noire aux Etats-Unis et ses rapports avec le monde du hip-hop. Grâce à la possibilité de retrouver ses origines avec les tests ADN, Pecou a renoué avec ses racines africaines et a consacré ses dernières recherches picturales à son héritage de l'Afrique de l'Ouest.
Fervent pratiquant de la religion Yoruba, il s'est intéressé à toutes les formes de liturgies et représentations du monde sub-saharien. Cette nouvelle trajectoire de vie l'a mené jusqu'à une thèse de philosophie sur la culture noire en Amérique du Nord.
Pour sa cinquième exposition à Backslash, Pecou poursuit son travail sur les implications communautaires, rituelles et expressives des hommes noirs, et plus précisément sur les traditions et coutumes, quasi protocolaires, liées à leurs cheveux et leurs coiffes.
Of Crowns and Kings revient sur les pratiques séculaires de coiffures des pays africains, notamment celle nommée Amasunzu au Rwanda. Dans les cultures traditionnelles, en plus de leurs valeurs esthétiques, elles définissent le statut et la position de chacun. Les hommes affirment ainsi leurs positions de chefs ou de guerriers et les deux genres expriment leur statut de célibataire. Ces codes, de moins en moins pratiqués en Afrique, ont largement été repris dès les années 1990 par la jeunesse noire internationale, et particulièrement aux Etats-Unis dans le monde du hip-hop.
Pecou en est lui-même un exemple avec sa coupe de cheveux caractéristique que l'on retrouve au fil de ses œuvres. Avec cette nouvelle exposition, il associe le traditionnel et le contemporain dans une série inédite d'œuvres majeures.
Les acryliques sur toile et dessins présentés à Backslash montrent l'artiste à travers un panel large de coiffures et postures liées à la tradition Amasunzu. Les couleurs chatoyantes rappellent les tissus Wax africains ultra-colorés et les postures adoptées par Pecou sont ornées de bijoux cérémoniels. Ces protocoles d'apparat sont devenus, au fil des décennies, les prérogatives de la diaspora africaine, et plus spécifiquement dans le monde noir occidental aujourd'hui grandement en recherche de racines et d'attaches à son passé. L'actrice Lupita Nyong'o est notamment apparue coiffée dans cette tradition en 2018 à la Cérémonie des Oscars à Los Angeles.
Fahamu Pecou est docteur diplômé de l'Université Emory d'Atlanta où il enseigne la philosophie. Son travail a été montré dans de nombreuses institutions prestigieuses à travers le monde, notamment au Museum Of Contemporary Art et au High Museum d'Atlanta, au Halsey Institute of Contemporary Art de Charleston, au Oakland Museum of California ou au Yokohama Museum of Art au Japon, parmi beaucoup d'autres. Son travail est présent dans de nombreuses collections publiques telles que le Seattle Art Museum, le Smithsonian National Museum of African American History and Culture de Washington, The West Collection de Philadelphie ou encore la Collection Société Générale. Il est récipiendaire de nombreux prix et bourses d'études.
Depuis de nombreuses années, Fahamu Pecou est régulièrement invité à des conférences dans le monde entier pour parler de la place de l'homme noir dans les sociétés occidentales.
Pecou est également vidéaste (son dernier film Emmett Still a été largement primé) et sort régulièrement des albums de hip-hop qu'il écrit et interprète.

\

The American artist Fahamu Pecou has been examining the aesthetic codes of Black American society for many years, particularly the dress codes of Black youth in the USA and their links with hip-hop.
Pecou has been able to track his origins thanks to DNA testing. He has thus reconnected with his African roots and focused his latest artistic explorations on his West African heritage.
An avid practitioner of the Yoruba religion, he has researched all forms of liturgies and representations of the sub-Saharan region. This new path on his life journey has led him write a philosophical thesis on black culture in North America.
For his fifth exhibition at Backslash, Pecou is continuing his work on the community, ritual and expressive connotations of Black men, specifically the almost formal traditions and customs centring on their hair and their headgear.
Of Crowns and Kings revisits the secular hairstyle habits of African countries, especially the Amasunzu tradition in Rwanda. In traditional cultures, these hairstyles do not only have aesthetic value; they also define the social status and position of each individual. For instance, men display their position as a chief or warrior, and both genders convey their single status. These codes, less and less in use in Africa, were re-appropriated in the 1990s by international Black youth, particularly in the United Sates and on the hip-hop scene.
Pecou himself exemplifies this development with his characteristic hairstyle, present throughout his work. With this latest exhibition, he juxtaposes traditional and contemporary in a brand new series of major pieces.
The acrylics on canvas and drawings displayed at Backslash present the artist adopting a plethora of different hairstyles and postures from the Amasunzu tradition. The shimmering colours reference ultra-vivid African wax textiles and the poses struck by Pecou are adorned with ceremonial jewellery. Over the decades, these ceremonial protocols have become the prerogative of the African diaspora, specifically in contemporary western Black culture. A culture marked by a quest for its roots and connections to its past, as illustrated by the actress Lupita Nyong'o when she appeared at the 2018 Oscars' ceremony sporting a traditional Amasunzu hairstyle.
Fahamu Pecou has a Ph.D. from Emory University's Institute of Liberal Arts (ILA) in Atlanta, where he teaches philosophy. His work has been shown in a wide array of prestigious museums throughout the world, including at the Museum of Contemporary Art of Georgia and High Museum of Art in Atlanta, Halsey Institute of Contemporary Art in Charleston, Oakland Museum of California and Yokohama Museum of Art in Japan. His art also features in numerous public collections, such as at the Seattle Art Museum, Smithsonian National Museum of African American History and Culture in Washington, The West Collection in Philadelphia and the Société Générale Collection in Paris. He is the recipient of several awards and scholarships.
Fahamu Pecou has long been a frequent guest at conferences all over the world, invited to speak on the place of the Black Man in western societies.
Pecou is also a videographer (his latest film Emmett Still has won numerous awards) and regularly releases hip-hop albums featuring music he writes and performs.
PRESSE \ PRESS
C. Perrin, "Fahamu Pecou, du hip hop au musée", Collection d'Art Société Générale, 2019 Emmanuelle Dreyfus, "3 raisons de participer à… " Un dimanche á la galerie", Version Femina, 2019 "Un dimanche à la galerie ! 15 septembre (5ème édition)", Fomo-Vox, 2019