(de)constructions
du 12 septembre au 31 octobre 2013
\
From Sept. 12 to Oct. 31, 2013


RERO
Boris TELLEGEN
Xavier THEUNIS
Michael ZELEHOSKI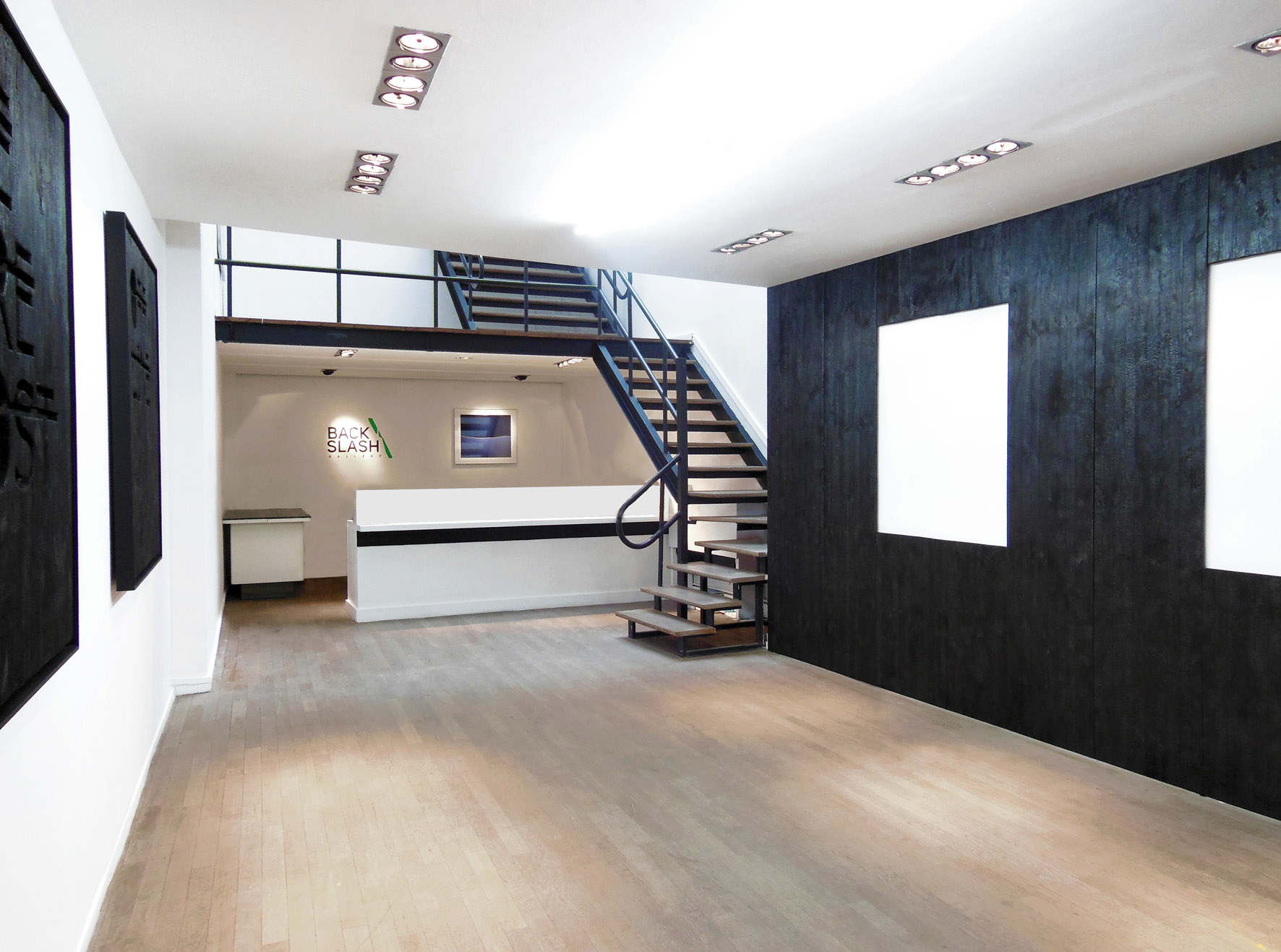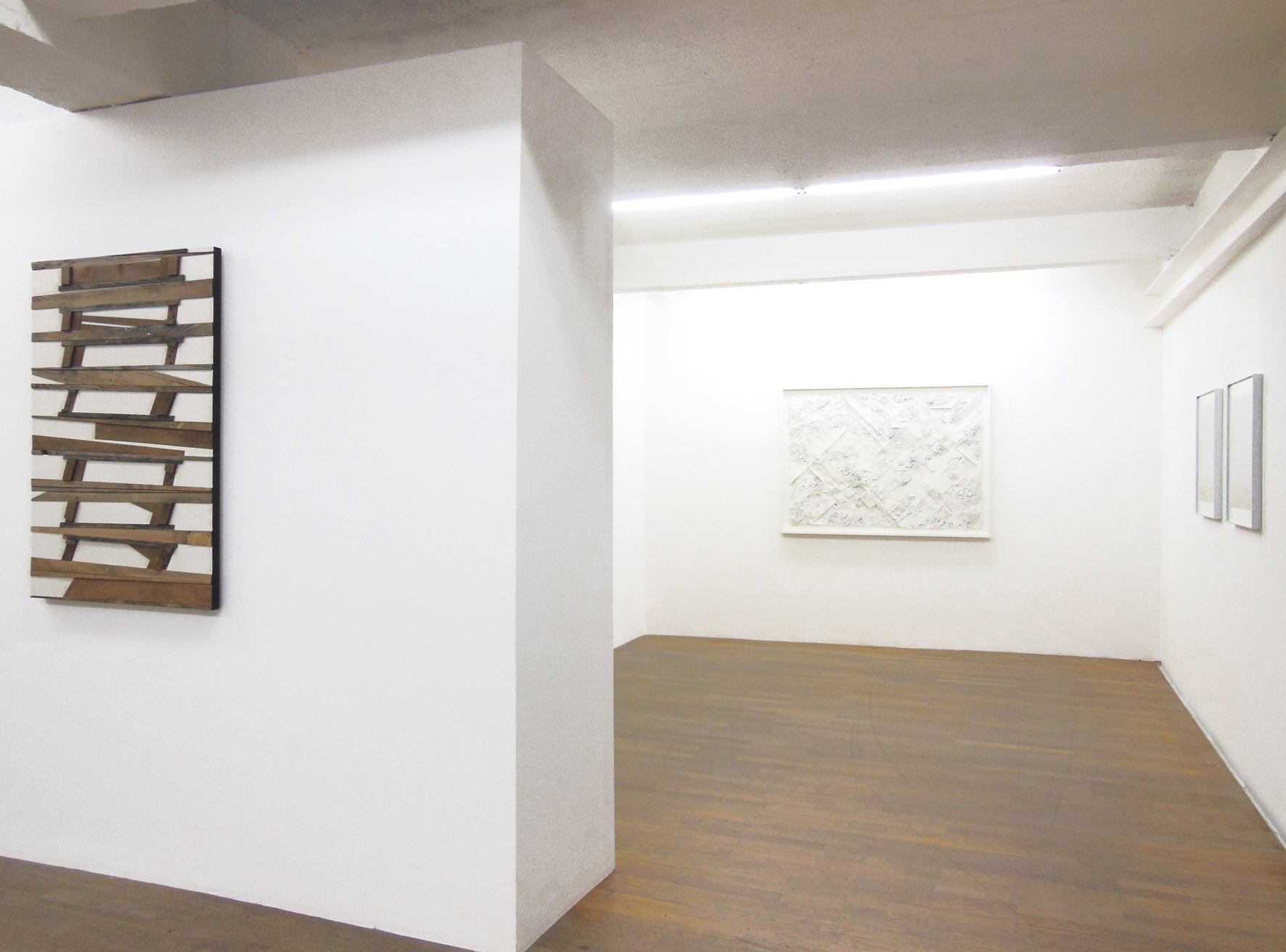 Backslash est heureuse de dédier son espace à quatre artistes de différentes nationalités dont les codes et les formes de chacun se retrouvent autour du thème « construction\déconstruction ». Les plasticiens investissent la galerie de leurs mediums privilégiés et proposent un parcours où des œuvres plus intimes viennent rythmer des installations monumentales.
Les recherches du Belge XAVIER THEUNIS s'axent autour d'une certaine forme d'humour en regard de grands mouvements de l'histoire de l'art, du design et de l'architecture. Son obsession décorative magnifie une précision plastique parfaitement maîtrisée au travers de monumentales œuvres de collages où le plan met le volume en valeur. Ses jeux de constructions abstraites dans lesquelles l'artiste fait montre de son excellente maîtrise de la couleur encensent des compositions à la fois déroutantes et énigmatiques.
Le Hollandais BORIS TELLEGEN, dont l'exercice sur le bois et le papier traduit son intérêt pour les questions écologiques, positionne l'ingénierie et ses nombreuses possibilités plastiques à travers des assemblages monumentaux où l'approche esthétique rejoint parfaitement les notions de construction et de finalité de ses explorations. Chaque pièce minutieusement composée et maquettée en amont ne laisse aucune place à l'aléatoire dans l'esprit de cet architecte du chaos.

L'essence même du travail de l'Américain MICHAEL ZELEHOSKI se traduit par un jeu de déconstruction puis de reconstruction. Influencé par certains mouvements artistiques historiques, et notamment le cubisme analytique, l'artiste désassemble des objets trouvés dans la rue, les découpe à travers un schéma bien précis et leur redonne une tridimensionnalité par le biais d'un système de composition parfaitement plan. Après cette désarticulation préalable et ce processus de transformation artistique, l'objet reprend vie dans une perspective ingénieuse tout en conservant la forme plane de l'œuvre afin de questionner le regard du spectateur.
Le travail du Français RERO, dont les fameuses lettres barrées jalonnent l'espace public, notamment ce printemps dernier sur la façade du Centre Georges Pompidou, se situe à la frontière entre intérieur et extérieur. Les expositions de l'artiste proposent à chaque fois une impressionnante scénographie où les œuvres s'immiscent dans une reconstitution de l'espace urbain en friche et plus particulièrement des lieux abandonnés, source intarissable de ses recherches plastiques.
\
Backslash is delighted to be showcasing four artists who hail from four different countries, but who all use codes and forms centring on the theme of construction and deconstruction. Populating the gallery with their favourite media, the artists create a journey where small-scale works alternate with monumental installations.
Belgian artist XAVIER THEUNIS adopts a humor-tinged approach to the great movements in the history of art, design and architecture. His decorative obsession magnifies a perfect mastery of artistic precision, as demonstrated in his monumental collages where plane highlights volume. The artist's play of abstract constructions, witness to his highly skilled use of colour, produces compositions as unsettling as they are enigmatic.
Dutch artist BORIS TELLEGEN's works on wood and paper express his interest in environmental issues. He uses engineering and the many artistic possibilities it offers in his monumental assemblages, where the aesthetic approach marries harmoniously with notions of construction and the purpose of his explorations. Each piece is put together and modelled meticulously, leaving no room for the random in the methodology favoured by this architect of chaos.
A process of deconstruction then reconstruction lies at the heart of the work produced by American artist MICHAEL ZELEHOSKI. Influenced by a number of historical artistic movements, including Minimalism and Analytic Cubism, the artist takes apart found objects, cuts them up, following clearly defined rules, and reinvests them with a sense of the three-dimensional using a totally flat composition system. After this initial process of dismantling and artistic transformation, the object comes back to life, taking on a new and ingenious perspective while retaining the work's planar form and causing viewers to question what they are seeing.
French artist RERO's work, including the famous crossed out letters scattered around public spaces - such as the Centre Georges Pompidou in Paris last spring - lies on the dividing line between outside and inside. The artist's exhibitions inevitably create a striking setting wherein the works take part in a reconstruction of the urban wastelands, particularly abandoned sites, that he draws on for unending inspiration in his quest for artistic experimentation.
PRESSE / PRESS
"Recap "(de)Constructions" Group Exhibition at Backslash Gallery", Graffuturism, 2013